Candy Coated Party Fete-A-Thon(2012): Blue range/AMBUSH Jouvert!
When a man has lived a full life, and can sit down satisfied in his old age that he has truly lived, there is often a single event that they can pinpoint as their crowning moment.
For some, it will be climbing mount Everest, for others the night they bedded a beautiful movie star (and her sister….at the same time).
For me, and several hundred others, it may possibly be February 17/18 with the Candy coated events Fete-A-Thon.
Let us start at the beginning.
At 10 pm we made our way to Movie Town  to reach the Party bus.
We carried our cooler with us in preparation for Blue Range cooler fete.  We were also pleased to see that the bus had a large cooler filled with drinks to keep us hydrated on the way.
The bus did several laps of the surrounding area returning to movie town a few times to pick up more people till at last it was filled to capacity and it was time to get moving.
The music kept sticking but the vibes were nice and no one minded much.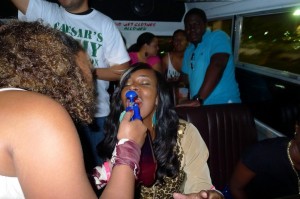 The organizers then pulled out the secret weapon…..the red rum.
After this point I can only talk in vague generalities, for while it tasted like Hawaiian punch it worked like Puncheon (Johncrow Batty for the jamaican readers).
Needless to say I was very happy when I reached Blue range.
Blue range itself was fantastic in my (foggy) recollection.
The different crews on the bus, as expected, fused into a large crew in the fete (front right corner) with the coolers pooled into one big bar.
We feted till about 3:30 at which time we were all gathered back to the bus to hit the road for AMBUSH.
Last year this turned out to be one of the unexpected treasures in my carnival experience.  As such, expectations were high.
Well we were not disappointed.  We were wisked to the secret location via shuttles and once again beheld our bamboo lined cubicle of carnival fete pleasure.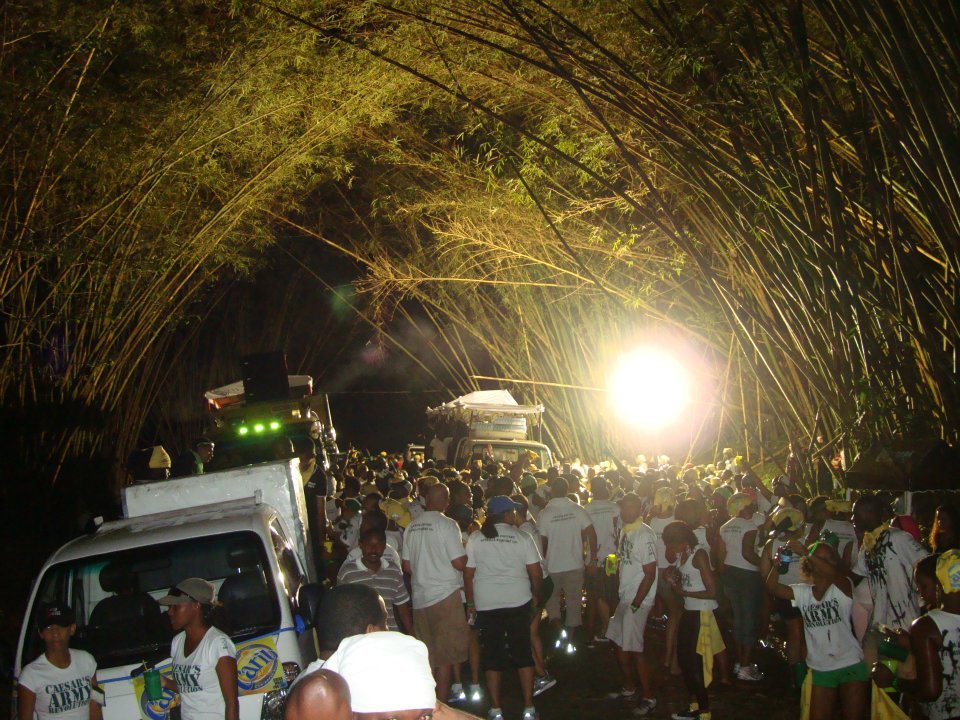 The vibes started immediately.  Waist was pelted…and I would like to think I etched myself into a few other peoples memories.
Paint, rum and vibes flowed into the morning.
We were all treated to an impromptu concert by Machel Montano and Beenie Man on the truck.   They surprisingly kept the vibes moving just like a DJ would and from what I heard, they were not invited but simply showed up…attracted to the event by its sheer epicness, like moths to a flame.
At the end of the fete the water truck hosed us all down and we limped back on the bus fully satisfied.
Here is a video that I made in an attempt to capture what that night felt like.
It wasn't all gravy though…there were a few non party related hiccups.  I will detail those in a later post.
The next review should be scorch….but I didn't enjoy that at all.  If you have nothing good to say its best to say nothing at all.  My next video review will be of SUNNY SIDE UP.  Be patient…give me a few days:)
REMEMBER TO SEND YOUR BEST CARNIVAL PICS TO [email protected]…lets make our own album!
click this to follow us on twitter——–>Follow @lehwego