J'ouvert 2013 for the carnival virgin (UPDATED)
email [email protected] to advertise here:

I have been getting emails from carnival virgins asking for assistance on a variety of subjects and I have decided to do a few posts to help them out.   Todays subject will be J'Ouvert.
Short for  Jour Ouvert, or dawn/day break, J'Ouvert is traditionally held the morning before Monday mas which next year is Monday, February 11, 2013.
A reader of mine, Dike Rostant, emailed me some info that I will share with you.  "J'Ouvert is a lot more symbolic and spiritual than people realise. Some elements are; the start at night  and  finishing in day signifying light overcoming darkness. Another is the mortification aspect of the mud, oil paint etc. When you join the army or go on a hall on campus,  you are made, through different methods, to be broken down as an individual and rebuilt as one part of a unit. J'ouvert does the same thing except that it's a lot more pleasant and rapid so you can choose to be an individual in the amorphous mass"
Here are some tips to help you enjoy your J'Ouvert to the max.
Get some rest.
J'Ouvert starts around 3 or 4 am and extends into the morning.  Most traditional J'Ouverts have a relatively long route and it can be quite a trek.  On top of that you have to get to your band for Monday mas right after.  Its best you get a few hours sleep before heading out to your J'Overt band.  This will ensure you only LOOK like a zombie instead of actually being one!
 J'Ouvert is a dirty affair.
Instead of spectacular costumes you spend the morning covered from head to toe in mud, oil, paint or powder and possibly all of the above.  DO NOT wear your criss Versace Boot dem or your bashment outfit and then get vex when they are INSTANTLY ruined…..Wear some clothes you plan to retire or an outfit you have specifically put together for  J'Ouvert.  "You cyaa play mas if you fraid powda"
Baby oil.
Going to Monday mas with paint behind your ears and under your neck should be avoided.  It can be murder to wash off some of the "stuff" you smear on for J'Ouvert.  The best bet is to literally cover yourself in copious amounts of baby oil.   No, I don't mean a "tups" to moisturize your skin, I mean an oil slick.  You should be glistening….shiny, like a male stripper!  The baby oil forms an almost impenetrable barrier agains all that jouvert has to offer. Paint will simply not stick very well and you will be able to wash off after J'Ouvert in minutes with soap instead of an hour with Fab, Clorox and a brillo pad.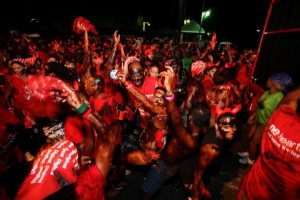 Cover your head
Ladies. No one will respect your beautiful curly wea…hair.  Cover it up fully using shower caps or other material thats waterproof.
Ziplock bags
These can be lifesavers for your phone and emergency money.
Stay safe
Do not go wondering off by yourself.  J'Ouvert is the one time in carnival I hear about robbery and such. Stick within the confines of your J'Ouvert bands security.
Leave early.
To the purists this is likely to be considered blasphemy. Leave early?!?!?  But in my experience leaving J'Ouvert at 6am the LATEST is best.  The problem is that all the different J'Ouvert bands cut off at the same time and that leads to traffic from hell at about 7-8am.  Drunk, tired and stuck in traffic is a horrible way to start Monday.  I really like my Monday and Tuesday mas and have had bad experiences reaching the band at 12 midday because of J'Ouvert.  Leave a little early….trust me.
If you really want to supercharge your J'Ouvert experience try doing it twice.  I HIGHLY recommend Caesars army AM bush alternative J'Ouvert held on Friday night.   It's more fun with no stormers (so far) and no pressure to leave early.  In fact last year we skipped traditional J'Ouvert completely.  This year because we are staying right on the savannah (thank you Thecarnivalconnection ) and don't have to deal with traffic we will once again likely do the J'Ouvert double of Caesars army and traditional J'Ouvert.
Whatever band you choose make sure to listen to the wise advice that I and others lay at your feet and have the time of your life!
Here is a video of  J'Ouvert …this kinda covers the spirit of things!
"JOUVAY" MORNIN!!!
thanks to Stephen broadridge and  Tanya Marie for the great photos