Frenchmen Foreplay 2012. Feel the chemistry!
The time has come!  Frenchmen is finally accepting reservations for Foreplay on Heroes weekend, Sunday October 14th.  I have the flyers for both the Saturday night and Sunday afternoon parties for you to take a look at as well as contact information.  The Sunday party is the main event for those of you new to Heroes weekend activities (I have never even been to the Saturday party).  Please note that no price is listed on the flyer anywhere…If you have to ask…..
(3000$ja for Nightcap and 7000$ja for Foreplay)
My personal plan is to try to take in the Saturday pool party at Bleu (see update here) then Frenchmen foreplay on Sunday.  If anyone has a place for me to kotch in ochi Saturday night let me know:)
UPDATE #1.  Dj Private Ryan will be playing at Frenchmen this year!
Come Feel The Chemistry at FOREPLAY!
Invitations are limited. 
Send requests to [email protected] or call 960-6148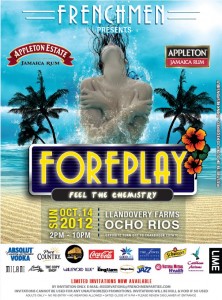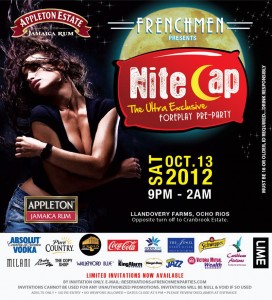 Heroes weekend heats up!