Where to fete (WTF) October 19th and 20th, 2013. Frenchmen Nightcap and Foreplay
It will soon be time for Heroes weekend in Jamaica.  This is the time socaphiles flock to Ocho Rios on the north coast to enjoy Frenchmen Promotions Summer parties.   There are 2 parties on offer.  Saturday night is Nite Cap.  This is a lingerie themed party held in a smaller venue.  Ticket price – 4000Ja$ (40usd)
This year Bleu will NOT be held on heroes weekend so this is the only party I know of for the Saturday.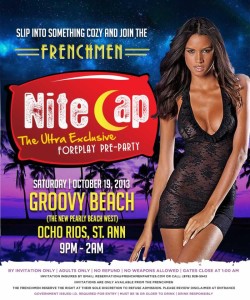 On Sunday is the Main event.  With delectable food on offer all day and premium drinks always on hand you have little reason to question the 8000JA$ (80USD) price tag.  Apart from the first rate amenities the party is home to beautiful faces and wonderful vibes.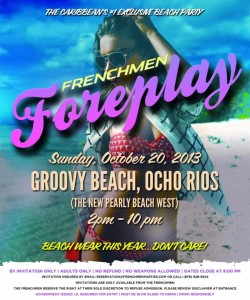 See the flyer for ticket info.