Bleu for Heroes weekend 2012. Ocho Rios, Jamaica Grande Confirmed! UPDATED Sept 26th..Kes is coming!
SCROLL TO THE BOTTOM FOR UPDATES
Sometimes, lady luck simply smiles on you.
Recently, I have switched to doing both my gymwork and running in the morning.  During my workout I ran into one of the promoters of Bleu!  I took the opportunity to squeeze some information out of him regarding Bleu for Heroes weekend.  He was able to confirm that Bleu would be held in Ocho Rios at the Sunset Jamaica Grand Hotel.  The lineup for live performances potentially includes a rather popular soca artist (heh-haaa!).  These artist bookings are preliminary and are definitely subject to change but it's nice to know they are aiming HIGH!
Here is all the information I have so far!
Bleu will be held at Sunset Jamaica Grande in the heart of Ocho Rios.  The hotel has graciously allowed an entire block for the promoters of BLEU to carry on their shenanigans! (which usually includes at LEAST 3 parties)
Prices: Bleu is different from other parties in that you simply book at the hotel to take part in the weekends festivities.   The rates are as follows:
200$ single occupancy
250$ double occupancy
300$ triple occupancy
Remember a minimum of two nights is needed and you must mention the booking code of "bleu2012" for those rates.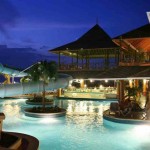 You can call 1-876-974-2200 to book.
I will be updating this post with any other tidbits of info as I get them.  When the promoters confirm their party and artist lineup I will post that as well.
For now we will all have to decide and work out how to enjoy Frenchmen AND Bleu for heroes weekend.  I'm not sure how but I plan to get the best out of both!
UPDATE #1 (sept 25th)-  Prelim booking looks like Saturday will have an artist many consider the heir to Machels soca throne performing (again)!  Remember these rumors are not yet confirmed!!  I will get official info to you as it becomes available.  At least we know we will be in for some good performances,  the promotors are aiming high!  Also see Frenchmen info here.
UPDATE #2 (sept26th)- Kes has announced on his Facebook page that he will be in Jamaica on the 13th of Oct….I guess the cat is just about out of the bag:)
UPDATE#3 (Sept 26th)- Just spoke to the promoter.  The party lineup is as follows:
Friday Oct 12 Baby Bleu (PJ Party) 10pm-4am
Saturday Oct 13 Sky Bleu (beach and Bonfire party)  Featuring Kes 2-10pm (afterparty in hotel club)
Sunday Oct 14th  Bleu pool party 2-10pm (after party in hotel club)
Will you be going to BLEU?