Bacchanal Jamaica carnival 2013 band launch review
ThinkAkil took the time to go to the new Mas Camp to see what Bacchanal Jamaica had to offer.  This year marks a momentous development for Bacchanal Jamaica.  After much chiding and cursing on my part it seems that they have finally been moved by the winds of change.  This year, instead of a private launch in front of a few hand picked guests and press they had a large Trinidad style band launch fete.  The launch came complete with a stage, models and confetti.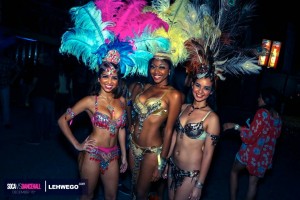 I like to think that it was Lehwego that spurred this action.  Last carnival I offered frontline upgrades for those who wanted it via LehwegoFrontline.  It was pretty successful and now Bacchanal Jamaica is offering three upscale costumes left over from "Explosion Carnival"  band from Trinidad in 2012.  The costumes are more intricate than the usual Jamaican fare but don't worry, there is still plenty of scope for "Upgrades".  More on that is to come soon!
On monday I will make a visit to the mas camp to get information on prices and the names of the sections etc.
Take a look at some of the photos below or see more here.