Lehwego's Recommended Fetes for Jamaica carnival 2014 (Updated!)
See lehwegocarnival.com for ticket info.
Its been a bumper crop of fetes for Jamaica carnival this year.  There are so many in fact that its no longer possible to go to all.  This is a far cry from a few short years ago when the only soca fetes were in the last 3 or 4 days before the road March.
In order to help you make your decisions I am going to share with you my recommended fete list. This list is simply my personal opinion.  I have no sponsors. I collect no money from anyone for this list.  These are simply the fetes that LEHWEGO likes.
.
.
.
April 5th
Soca vs Dancehall- Carnival at night
These new promoters are some of the hardest working in the business and have a track record of making their event bigger and better with each edition.
This year Private Ryan will be on the turntables and as usual the bar will be stocked with only the BEST!

.
.
April 6th
Enamel Cooler fete

.
.
April 12th
Sundown cooler fete
Part of the SunNation line up this party is a sure bet.  Nice vibes, beautiful people….and lots of stocked coolers.  This year they have a new venue which is SURE to please! See you there!

.
.
April 19th
Frenchmen Rise UP
New on the Carnival landscape is frenchmen's Rise Up.  These promoters have perfected the art of a beach party and premium everything.  Their reputations preceeds them and thats why this first time fete is already recommended.

Bacchanal Beach Jouvert
At the age of 40 I have started to shy away from some of Bacchanal Jamaica's events which are more oriented to a younger crowd but this event is still one of my favs.  Full of vibes and in a great venue this is one you dont want to miss.

.
.
April 20th
Marbana

.
.
Sun Rum Fun
New on the carnival scene is this cooler cruise from Trinijunglejuice and Bacchanal Jamaica.  Given the quality of event Mental was in Trinidad we expect a lot from this one.  If you won't make it to Marbana make sure you check this one out!

April 21
Canboulay
Also in the lush parish of Portland this event promises to continue where Marbana left off.  With Dei musicale, a great breakfast menu as well as a seaside venue we can expect a memorable event!

Dusk
After Portland we rush back to kingston to get ready for dusk.  This is the second staging and it's already known as a can't miss event.  Last years staging was OFF THE HOOK!

.
.
April 22
Tabanca Tuesday

.
.
April 23
I Love Soca
This is the one that started the trend.  A few years ago this was the first new addition to the Jamaica carnival lineup in years!  Now its matured into a carnival week staple thats not to be missed.

.
.
April 24
Pandemonium
This one is a big show featuring Shaggy and Machel Montano. Last year was a great time with powder and vibes ending with a jouvert Street parade. This year the event is Thursday instead of Friday so the street part not so likely but the event should be just as good.

.
.
April 25
Wine UP cruise
Very little is known about this cruise right now other than it will be a very exclusive event!  Candy coated events from Trinidad has always hosted great events during Trini carnival and this year was no exception.  Their Wine Down cruise to cap off our Trinidad trip was nothing short of EPIC (see here and here).  It was so epic that this fete makes the recommended list on its first attempt.  Lets see what they can do.   Email [email protected] for more info.

.
Fete-a-Thon
The trini version of this event is always a blast.  Imagine a bus full of socaholics.  Dark corners, rum and soca are always a great combination.  This event will start at a location TBA and end at AMbush at 2am.  Take a look at the Trini version HERE.  Again, email [email protected] for more info

Bacchanal Jouvert
For those wanting the Jamaican experience from Carnival Friday (which has seen a major Trini Invasion) there is Bacchanal Jouvert.  It is the biggest jouvert in Jamaica by FAAAR.  If you go, I STRONGLY ADVISE going VIP.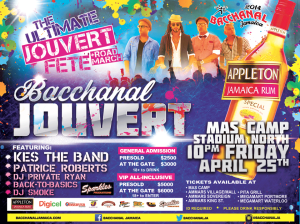 .
April 26
SUPER SATURDAY
only the strong will survive
Caesars Army AMBUSH
Part 1

.  If you dont know….ASK SOMEBODY! (or email [email protected])

Sunrise
Part 2.

 This is the BEST local soca fete Jamaica has to offer.  If you come to this island and do not attend this fete you are robbing yourself of half the experience.  It will be a challenge to do both but if you leave Ambush at 7 (when its going to end) and rush home where your detergent lies in wait beside your already ironed outfit you can make Sunrise by  8:30!  We do schedules much tighter than this in Trinidad….this will be a breeze….and a BLAST.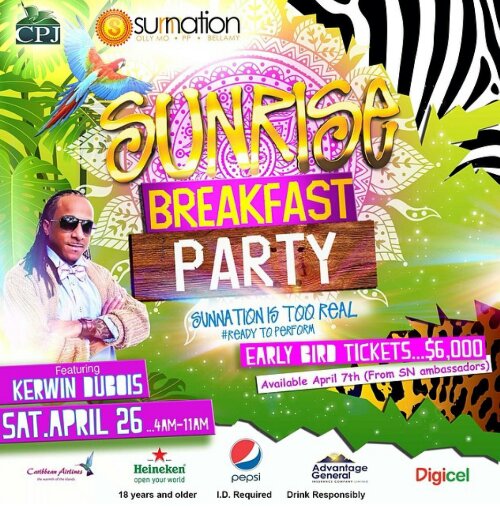 Bazodee
Part 3.

 This is another of the old guard.  The best food, best drink, best Djs, best everything!  This is one that for years has kept its promise of being a great way to end the fetes for Jamaica carnival.  We are sure it will keep that promise again!

GLOW
A new contender to the carnival calendar is Glow.  running from 8pm to 2am as well it offers an alternative Fete experience from the traditional options.  Prepare for EDM style lighting for a soca fete!  They will feature performances from Lil Rick, Konshens, 5 Star Akil and Blaxx!  Tickets start at 2500 presold general to 4000 VIP.