YUMA…Monday and Tuesday review
Monday Morning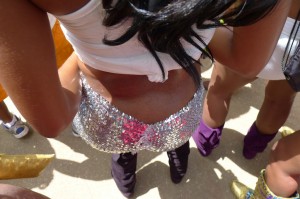 ThinkAkil and I got up rested for Monday mas and headed out to the meeting point for YUMA.  We had skipped traditional monday J'ouvert and went to AM BUSH instead, a truly epic event. The meeting point was a big secret up till a couple days before the actual day and we had dutifully mapped our way there using google maps the night before.  The meeting point wasn't too hard to find and we soon found ourselves with the band rearing to go.
Let me tell you, I had a blast all of monday morning.  The band had vibes and there was NO shortage of wine (or so I heard, wifey).  The drinks trucks were well stocked and kept me well hydrated with Nuvo, my new favorite drink.
At this point there were no problems with stormers and, although not omnipresent like in tribe, security was never more than a stones throw away.
I was again held by the gentle caress……no…….the loving embrace…..NO!…….the Euphoric Vice Grip (ukubit!), that is Trinidad Carnival.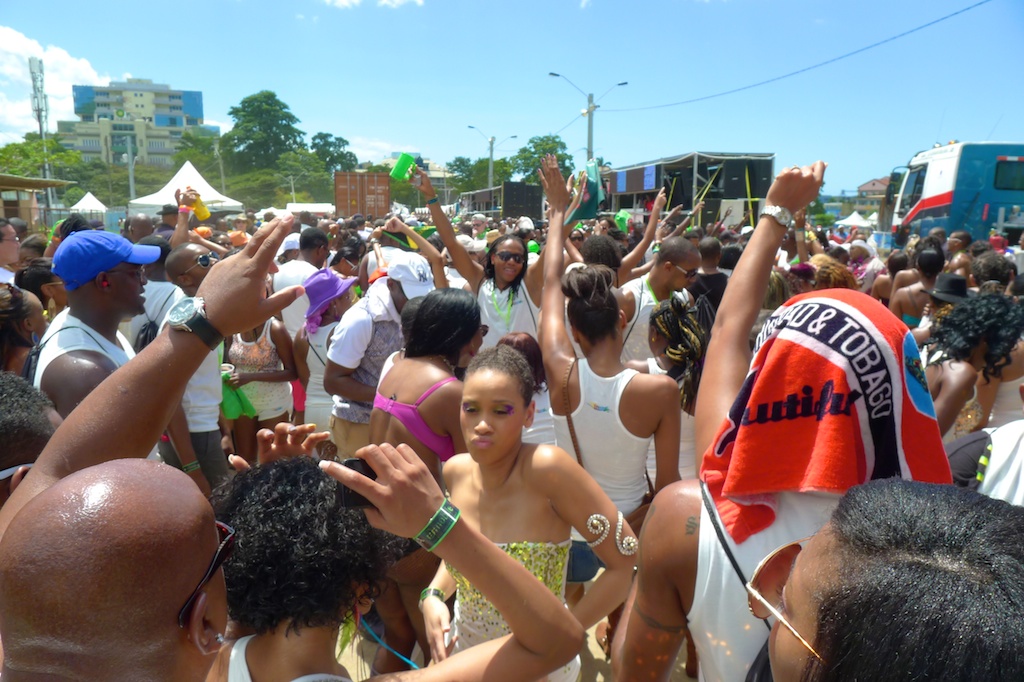 Then came lunch.

Getting into King James park was a bit of a chore with only a narrow bridge as an entry point.  Thats ok, it's carnival. A Hiccup or two shall be overlooked.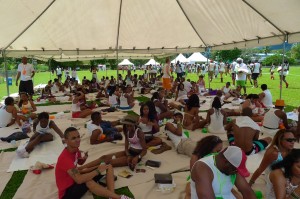 The park had several large tents and lots of shade for the weary and many comfortable blankets so I didnt have to lie down in the grass.  Also the bathrooms were (thankfully) clean as a whistle at the lunch venue.
Now for an important issue.  Yuma has upwards of 3000 masqueraders and there were only 3 large tents for food!  While I know there was approximately enough food for all of us, why have such a glaring bottleneck.  Its like Apple trying to sell all their new iPads through only 3 stores.  BOTTLENECK!!
YUMA 10K Invitational
After a bit of rest at lunch I anxiously headed back to my favorite music truck (number 5!) hoping to continue the mornings revelry.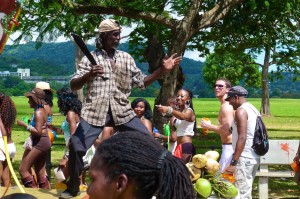 Unfortunately, YUMA had other ideas.  They must have been keeping tabs on my pre carnival preparations and wanted to test me out as the ratio of movement to stationary jam session changed DRASTICALLY.  After lunch can be described as….well for me the words that sum it up best are…. a half marathon.  The trucks just kept on going.  From 1pm to 5pm I walked briskly behind the trucks.  Gone was my vice grip of euphoria.  No trace of any caress was to be felt.  Needless to say I was DEEPLY disappointed with this.  All the same, at dusk the trucks must have run out of gas or developed mechanical difficulties  cause they finally stopped and I was able to salvage an hour of on the spot jamming.
Slightly jaded, I returned to my place of rest.
Tuesday morning.
9 months of waking up at 5am to train.
9 months of lifting weights, hill sprints and high intensity interval training.
4 months of eating lettuce and other taste bad bush (get your mind out the damn gutter).
12 months of earning the RIGHT to leave my wife and child to go galavant (don't ask how, it's the subject of a future post).
It all boiled down to this one day.
I bathed, lotioned, petted and powdered.  Made sure I was smelling sweet.  Sprayed on the sunblock which also doubles as a body gloss spray to make the sun glint off the abs just……………
SO!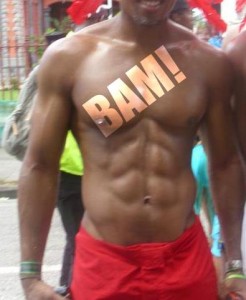 It was time to hit the road again.
This year I wore what I am sure is the BEST carnival costume I have ever bought.  My apache costume was bright and colourful with a full headpeice.  I was forced to leave half of it in the car (can't work so hard and cover up the abs…cho) but so it go.
We hit the road a bit late and joined the band at the savanah waiting to go over the stage.  The vibes on the stage.  GREAT, as usual.  My only letdown was that I spent half of it trying to film footage, but in the end had basically no usable shots.  For Jamaica carnival I promise not to film and wine simultaneously.
It took the band a bit of time to get themselves together after the stage but once again the morning vibes were astounding and the vice grip of euphoria returned, if but only for a while.  Drinks flowed freely.  Waists wined.
Lunch was more of the same but at least we knew what to expect.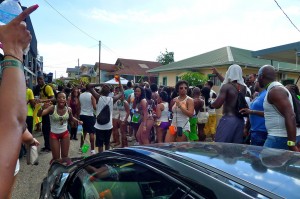 This time after lunch the trucks kept a more humane pace and there was plenty of opportunity to stop and jam.  Strangely though, two weeks later I find myself struggling to remember any of it.  Nothing stood out in my mind.  I had no ethereal experiences.
Security was strangely absent on tuesday afternoon.  Fortunately we had relatively polite stormers with a sense of decency and decorum who only wanted to party and not rob and create mayhem.  Seriously though, at times I was COMPLETELY surrounded by stormers.
The last two hours of my YUMA experience was wonderful.   I don't know the name of that street but it, and more so its occupants, were the source of much enjoyment that evening.
Now unlike ThinkAkil, I don't place as much emphasis on the amenities.  The Nuvo ran out….no problem,  I will drink something else.  The main thing that stuck in my craw from the road is that much of my monday was essentially a slow jog around the streets of Port of Spain and my Tuesday, although good, was not as good as I had hoped.  I am almost positive that my conclusion is coloured by years of my carnival experiences getting better and better year after year.  This can only go on so long.  I wonder if I have finally hit the carnival experience plateau.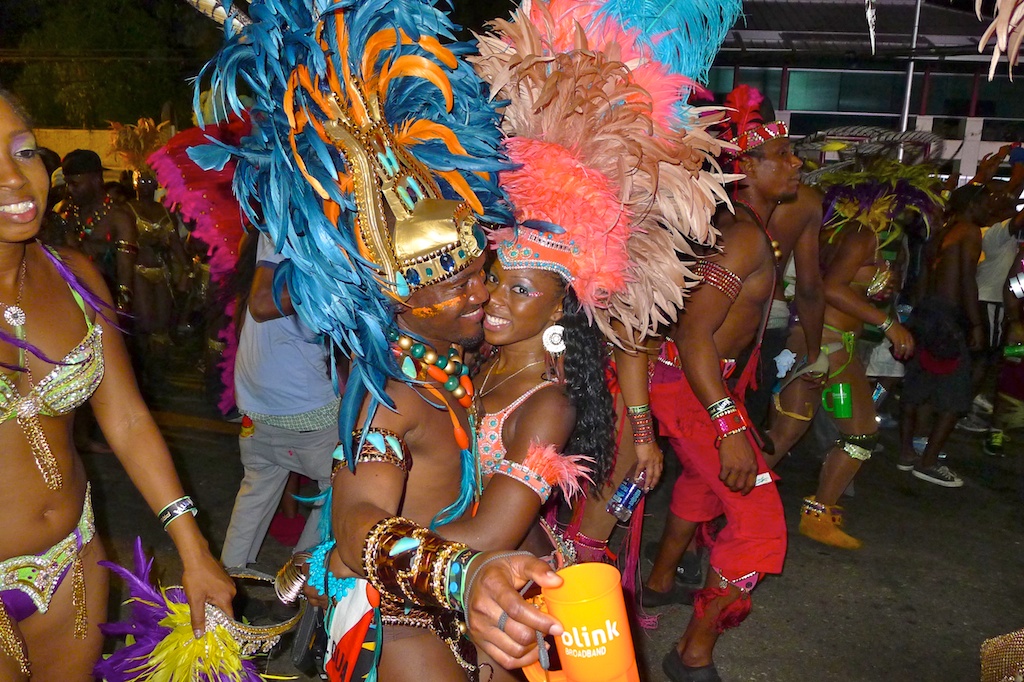 Overall I have to give YUMA a B.  With a special mention for the Costume which really stood out for me.
In any case thinkAkil and I have several months to decide which band we will jump with in 2013.  We will go into this process….with you….and with an open mind.
Here is the long awaited YUMA  video review.