This months preparation for Trinidad Carnival.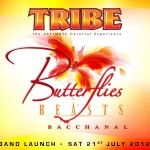 Things are finally starting to pick up on the road to 2013.   The big Trinidadian bands have started to show signs of life and the first tingle of anticipation can be felt as we imagine what next years costumes will look like.
As outlined in my previous post on your carnival preparation schedule for Trinidad 2013 you should now be ready to start putting your money where your mouth is.
Buy your plane ticket!
With your upcoming paycheck your carnival coil of cash should now have enough to purchase your plane ticket.  I know it seems early to some of you out there but trust me, don't leave it too long.  For those of you in Jamaica, we have missed the boat for the cheapest prices.  The plane ticket has risen in price to $395US.  So the time is NOW….it WILL get more expensive.

This month you also MUST contact TheCarinvalConnection to help you with planning your trip.  She offers a wonderful concierge service and will make it easy for you to book  rooms, get costumes, and acquire certain fete tickets.  My crew worked with her last year and we had no problems.  She comes fully recommended by the LEHWEGO team.
Remember to save money monthly….Carnival will dig out your eye if you have to pay for it all at once later this year without saving.  Use my Trinidad carnival budget as a guide.
Here is a reminder of the schedule to let you know what you should be doing!
April
Start the Lehwego Greek God/Goddess workout plan
May
Contact Thecarnivalconnection to start organizing your trip
June
Pay planefare/book car (CONFIRM PRICE OF CAR!!)
July
Pay hotel downpayment (note final payment date)
Band's launch
August
Pay downpayment on costume
September
Contact LehwegoFrontline for costume upgrades
October
November
Buy sneakers/boots and break them in (keep them clean)
December
Finish paying for costume and costume delivery (early payment=fast track/delivery option)
January
Purchase accessories ladies
Whiten teeth!
Purchase fete tickets
Have you started your preparation?