Silent Morning Cruise Trinidad
This year we will be trying Silent Morning for the first time.  We have heard A LOT of good things about this party and look forward to experiencing it for ourselves.
Silent morning will once again have a cooler fete boat and a drinks inclusive boat, allowing you to choose your preference and price.
The cruise will also be giving its patrons the best of both worlds with the fete on the boats as well as  a BEACH PARTY!
The boats will cruise to a secret location and offload to allow patrons to fete on the beach.  I heard they have quite a surprise planned for us!
I gave them a shout and here is what they had to tell me about their event.
"Silent Morning Breakfast Boat Cruises
August 19, 2007 was a scorching hot day in New York City as the boat cruise phenomenon, "SILENT MORNING" embarked on its virgin voyage. Small crowds of people in bright summer gear gradually congregated on the pier then boarded the Sheryll Princess to sail down the Hudson River and back. The muted calm demeanor of the ticket holders as they boarded belied the unrestrained, uninhibited, and unreserved behavior that resulted on the water that day. From that moment on it was the event that took the NYC party scene to new heights. Now, 10 years later, the Silent Morning enterprise once again prepares to drop anchor for Trinidad carnival 2017.
With a no-nonsense approach to stushness and antisocial ways, this boat ride grew over the years into a substantial entity on the Trinidad carnival lineup. After pleasing the NYC summer feters for several years. It was a natural transition for the team to commandeer the carnival Friday morning slot for Trinidad Carnival in 2010. A few short years later the cruise made history as the first carnival event to sail 3 vessels simultaneously as a multi-boat event. It was an epic experience for all aboard.
The formula for Silent Morning is actually quite simple. Tailgating became tradition with the reuniting of friends and family from all corners of the globe. Complimentary breakfast and brunch items of high culinary standards served alongside Signature Shots served by gorgeous island beauties are customary. But the key ingredient to this event is the DJ lineup and all the vibes they bring to table. The core cast of Silent Morning's signature DJ's is made up of world-renowned superstars DJ Private Ryan, DJ Back to Basics with Tony X from NYC and D Bandit from Toronto. To keep the vibe fresh and interesting, Celebrity DJ's are always featured and have included Lord Hype, Jugglers International, Nuphoric, and Dei Musicale to name a few. Always plugged into current of the music entertainment arena, Silent Morning added DJ Puffy to the cast for the 2017 expedition. This mash up of international talent ensures that this is not just the same fete year after year which is why many who first sailed on Silent Morning 10yrs ago will be boarding on cue on Carnival Friday 2017.
The production team works hard each year to preserve the magic and magnificence that is the Silent Morning Breakfast Boat cruise."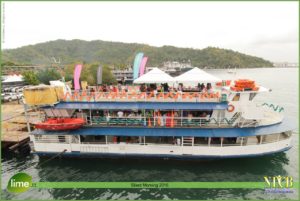 SILENT MORNING BREAKFAST CRUISE TRINIDAD
FRI FEB 24 2017 • 8AM – 2PM
BOARDING 8AM SAILING 9AM
HARBOUR MASTER PIER
C3 MARINA, 119 WESTERN MAIN ROAD
BREAKFAST COOLER CRUISE
$80US/$500TT
HARBOUR MASTER
PREMIUM DRINKS INCLUSIVE
$125US/$750TT
THE PELICAN
Casual and Sexy Resort /Beach Wear (bikinis and board shorts etc.)
For tickets:
Or