PM Premium (WAG)  review by Feli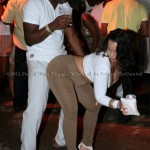 It was like heaven, seeing goddesses upon entering the event. We were greeted by lovely ladies in gowns of White And Gold accessories (Representing the WAG theme). The ambiance was very sophisticated as there was W-hite A-nd G-old everywhere and on almost everyone. A lot of people supported the theme
Right away we started to dance. As the music played by DJ Private Ryan was on point and forced everyone's feet to move. EVERYone was dancing, drinking, eating and socializing. Unlimited 'PM' PREMIUM drinks and unlimited 'PM' Premium food. The atmosphere was light (probably encouraged by the white decor too). It was also VERY intimate as the event was not densely packed but had the EXACT amount of patrons for a comfortable and enjoyable evening.
During the course of the night the vibes only got better! Credit must be given again to the hyping music mixes played by DJ Private Ryan supported by the Jase as the MC!
When all the alcohol started to seep in, the wining and dancing just got lower and lower and lower as people were now wining to the ground, some with legs up in the air, trains of people wining together and everyone smiling and laughing and having a great time. The numerous photographers captured the true spirit of the patrons.
Kudos to the promoters of this event as it was one I will be looking forward to attending annually!
See more photos here.
-Feli Renwick-Risbrooke
Thanks to Whey all the fetes are for carnival for the photos!