Imagine the PERFECT band.
Bands promising a first class experience are easy to find in trinidad.
To tell the truth, most of them deliver almost all of what they say they will. It's a monumental task to keep even 100 people happy much less two or three thousand. Every year I see people, mostly women, complaining bitterly of bad treatment or bad service or shoddy costume construction. Eventually, and inevitably, carnival comes and goes anyway.
This raised the thought, what would the perfect carnival band be like?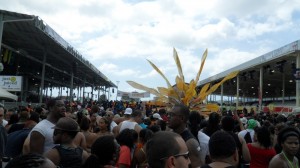 Big, but not too big: A crowd of 10,000 does not a party make. Thats for mass migration of buffalo etc, not for me partying in carnival. For me at least, a crowd of three to four thousand is the most you should have. Thats enough people to make sure you see a constant stream of new faces with less risk of being trampled in a stampede or lost forever in St. James.
Better Costumes: Now every year the big bands come out with beautiful costumes. Most are pretty good. A few are Amazing, and an unfortunate few are horrible. While I am sure that beauty is in the eye of the beholder and just as a sheet of paper has two sides you must have pretty and ugly, why not allow your faithful to help you decide. You have a following of several thousand, ask them to vote on the costumes and then you can eliminate any that perform abysmally. My wife still laughs anytime she sees pics of me in my ice Warriors costume (yes, the one with the predator dreadlocks headpiece and patched up pink shorts…steuups). In fact the year before that I hated my lulan male costume too now that I think of it.  I think it cant be hard to make a set of costumes where while you may prefer one more than another you wont feel ashamed wearing any.
By the way, we need to make this tapasexo thing a reality for the ladies.  I jest!……….actually I'm serious. If you dont know, Google it!)
Easier Collection: This has gotten better over the years with many innovative ideas coming to the fore. Costume delivery is one recent one that is fully worth the asking price.  The only thing that could make my experience  even better would be to arrive at Piarco and have a person hand me my costume as I exit the airport. How hard could that be?…Somebody…make it happen!
The Road: This is one part of carnival which is largely dependent on you. In the right situation you can have fun no matter what. There are a few things I thing could make the experience even better.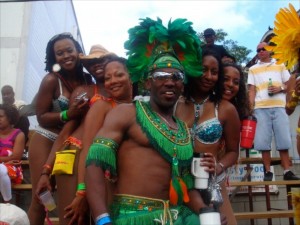 First, more drink trucks. In fact, a system to get drinks out to jumpers more easily is need badly in Trinidad. I can see the premium liqour staying on the drinks truck but lifesaving water and gatorade could easily be more effectively distributed. I have actually gotten in touch with one of the new big bands with a suggestion on this issue. Lets see if they can pull it off. The other sore point is the Stage. I know it's supposed to be the high point of the day and we should be ecstatic to go over it but my memories of it went something like this.  Waiting in the blazing sun for 2 hours with no shade and no water listening to the SAME song, over…and over again. EVERYONE was vex…no one was dancing. The stage was good but the 5 minutes of enjoyment on the stage wasn't worth the sufferation in my opinion. There must be a way to provide water, maybe a bit of shade and a nice vibes to that part of the road experience.  Right now I think the bands have just resigned themself (us) to keeping that part of the road experience the same forever. Finally, at the end of the day it would be useful to end at the starting point and the after party fete that tribe has should be MANDATORY for all bands:)
Well I think it's easy to say "you are asking for too much" or to say I'm being overdemanding but I'm telling you that some of the things I'm complaining about have been solved in other countries carnivals and can be fixed in Trinidad…let's see if my rant can make a change.
ManLi