Guys, Do We REALLY want "Different"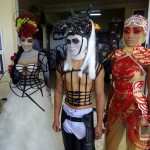 Yesterday was an exciting day for us carnivaloholics.  K2K gave us our first glimpse of what is to come for the road for 2013 and Nicki Minaj did a video complete with her own personal carnival road march.  It has been a long time in coming, but I think that Carnival is finally in the air again.
I anxiously took a look at K2K's presentation.  Some of my friends (all girls) had been waiting with baited breath for the sneak peek and were giggling with joy like schoolgirls at what they saw.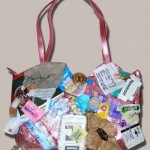 To tell you the truth….
K2k is like a Louis Vuitton handbag.  To women it is THE bag….a beautiful status symbol that portrays your class and economic power…to men, its just a leather bag with 2 handles!
I know its early days yet, these are artistic concepts and we have only seen a fraction of what they have to offer but I was having a hard time coming to grips with the costumes shown so far.  The general composition of the costumes seemed out of touch with the reality of the conditions on the road in a country centred under the equatorial sun. (Chaps, LOTS-O-tulle and wigs)
I have long complained bitterly about the male 'Combo number 1″ when it comes to male carnival costumes but today I had to think carefully to myself….do I really want something that different?  It's like when I go shopping for clothes. I want something new and different, but I still want a shirt and a pants.
Different has its boundaries.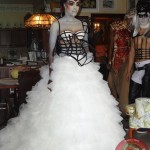 I asked a couple other guys as well just to make sure I wasn't presenting a biased view.  The reply that hit the nail on the head for me was:
"Black in the Carribean sun = no chance. Chaps = no chance (I'm trying to meet women on the road NOT guys). Make-up = no chance. Heavy head piece = no chance. White wig = no chance. Otherwise, it looks great!!"
In the end, as much as I complain about the male "combo" I see now that I really want something new and different within a rather narrow range of "acceptable".  Maybe this is because I'm not a Trini, maybe (like my wife insists) I have no fashion sense.  For me it's the truth though.
Hats off to K2K alliance.
They have blazed a path in a new direction.  Although I'm not ready now, maybe my feelings will change and their style will change enough for the 2 of us to intersect successfully in the future. Who knows, in 10 years maybe all the costumes will look like this. Change is ALWAYS good!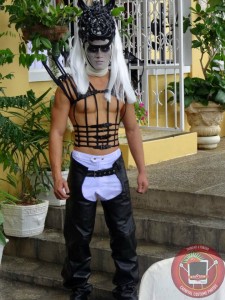 Thanks to Trinidad & Tobago Carnival Costume Photos for their great photos!
Will you Dare to be Different?