Double Up! Where To Fete for Carnival
This year the Lehwego Crew is going to make an effort to try new fetes and new experiences for carnival.  One of our changes is our breakfast fete.  This year we are doing Double UP!  We have heard lots of good things and look forward to the vibes, food, drinks and great performance lineup.
Take a look at what they have to offer!

Fete Highlights
Sushi from Morvino and at least 20 different food options
Wine Bar
Rum Cocktails from Angostura
Foam from our Foam Cannon
Sober Up zone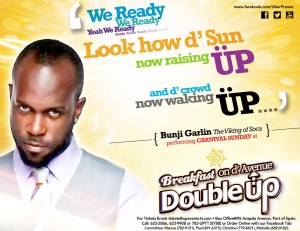 Performances by: 
Bunji
Fay Ann Lyons
Super Blue
Iwer George
Karma featuring Ravi B
Take a look at what happened last year below.  Lehwego will be there.  We hope to see you there too!
CLICK HERE FOR CONTACT INFO FOR TICKETS!
http://www.youtube.com/watch?v=QFloqNgHzDY&feature=youtu.be