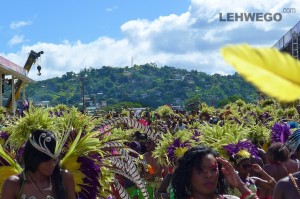 It seems that every year there is so much hype surrounding crossing the stage. Whether it's the song that people cross the stage to, the costume they want to wear crossing the stage, time of day they cross the stage or any number of other things. People seem to anticipate the stage much more than anything else! Not me…..
As always, let me start by saying, I'm not Trini, and I'm a Carnival newbie. My 1st Carnival experience ever (not just in Trinidad) was a mere 3 years ago!
A Bit of history
My first "stage" experience was a year ago when I played with Tribe. I'll give you guys a quick summary of the experience. It was my first year crossing the stage, so, I had no idea that the drink trucks would be diverting and I wouldn't be able to access them. BIG MISTAKE. I also had no idea just how long it would take to get TO, much less cross the stage. All in all I waited in the sun for roughly two hours, listening to at most 3 songs over and over. I NEVER EVER WANT TO HEAR ADVANTAGE AGAIN! Sure the 10 minutes I got in the stage were great. But 2 hours in the blazing hot sun (imagine the heat from the fires of hell radiating on your skin), with nothing to drink and the same song(s) playing over and over, for 10 minutes of enjoyment hardly seemed worth it to me at the time!
But, you know what, Tribe was a huge band, and I had heard there were some logistic challenges that caused the holdup. So, you know what, chalk that up to a one time bad experience.
2012
In 2012, I played with Yuma, smaller, newer, tighter band. They had what seemed like a much better plan. Get to the stage earlier, before the congestion and provide masqueraders with a much better experience! Clearly they were on the right track….
Admittedly we did get to the stage quicker, and due to it being much earlier in the morning the sun wasn't quite as punishing. But, we STILL had to wait a little over an hour to cross the stage. Again, the 10 minutes on the stage was amazing. The energy, excitement, dancing, photographers from all over the world taking photos of the masqueraders. It was great… but, 10 minutes? 20 if you really pushed it I suppose.
Why bother?
After 2 years of crossing the stage, at this point, I have to ask myself, WHY? Why do people think it's worth it to stay in one spot, for 1-3 hours, in the blazing hot sun, no access to drinks (sure you can BUY drinks from vendors), and listening to a limited selection of songs is worth it? I would much rather be chipping through the streets of Trinidad, constantly moving, jamming to (get it?) different songs, drinks flowing all day as opposed to spending 2 precious hours of time waiting for 10 minutes of excitement. For me, the payoff of the stage isn't nearly worth the sacrifice.
I realize that as a tourist and Carnival newbie I may just not have the full appreciation for the stage and what it means. But surely there are others like me. So a suggestion to any band owners that may happen to read this. Maybe you could introduce a split in the band as the stage approaches. Let the people that WANT to cross the stage do so, and for the people like me that would rather keep it moving, let us go on a different route, then have everyone meet up again at some point. WIN WIN!
So would you rather keep it moving? Or do you think the stage is worth it?