So begins the costume quest.
Ok.  First I would like to introduce my design and production team for this little "quest" of mine.  The Lehwego headpeices will be a collaborative work of Darrel Bulze Costume Designs and Custom made carnival supplies.   This dynamic team works from out of Antigua and Trinidad and has been doing custom work for years.  They even have their own section in Miami carnival with Generation X (Avalanche).
Custom Made Carnival Supplies was the driving force behind LehwegoFrontline which many of you may remember from Jamaica carnival.  Many a happy reveller enjoyed custom made wire bras, collars, etc etc because of their skill and dedication.
Find your own joy.
My good friend Thecarnivalconnection has stressed that she has still not seen any costume for carnival in ANY band that she really likes.  I say verily unto thee….MAKE THINE OWN!  Many may ask how I'm exposing my carnival costume so!  By the time carnival reach it will be stale news.  Well my friends….I do it for you.  This is to show you that making exactly what you want for carnival IS possible, and I want to be your guide.
ThinkAkil and I gave them the rough ideas of what we were thinking and they have come up with a couple of sketches based on what we showed them.  The one we like the most is this.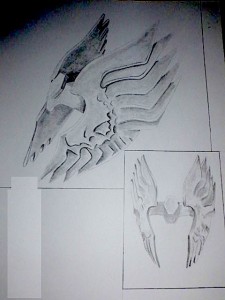 Of course this is just the first preliminary step and at least one revision is to come before anything else is done.  The helmet is now just a headband with NO top and the side pieces will be made of plastic and airbrushed to give a realistic metallic appearance. I was thinking of either a large straight feather on either side behind the first spike of each side peice or a puff of small feathers by each ear to compliment the costume colours.  The Lehwego team will go through the options with the design team and see what happens next week.
How do you join in?
If you want to make your own joy, Lehwego has you covered.
1.Join the LehwegoFrontline Facebook page.
2.Take a look at all the different options our designers offer in their respective galleries
3. Message LehwegoFrontline with your costume request.  It may be easiest to use examples from the galleries as a starting point or as an example of what you want.  The designers will respond to you with all the information you need!!
Its that easy.  You support us so we must support you.  Bulzie and CMCS have promised to give you guys priority service from the LehwegoFrontline Page with your custom costume requests and I will do my best to be your advocate if you go to them via LehwegoFrontline.  Keep your eye on the LehwegoFrontline page for more info.
Don't have or don't want to use facebook?  Email [email protected]
I'm quite  happy so far and look forward to the next step of the QUEST!
TUN UP your costume too!