Candy Coated's Wine Down Cruise, Trinidad Carnival 2014 review
Still sore and blistered from carnival Tuesday we scraped ourselves out of bed and made our way to the airport for our flight to Tobago. We had decided to end our trip with Candy Coated's Wine Down Cruise.
Just a nice relaxing day in the water we thought.
The flight was pretty short and comfortable and in two twos we were shuttled to the boat dock.
We were greeted by a tasty lunch as well as a few party favors. The lunch was much appreciated as we walked with liquor but totally forgot food.
The first indication that this was going to be special was when we saw Dei Musicale hopping on one of the two boats going out to sea. My crew ensure we were on that boat!


Once we got going I realized quite quickly that this wasn't a basic Tobago lime.
The vibe was great. The little bar was well stocked and liquor flowed efficiently and soon everyone was tipsy. The wining started soon after.
The boat was made for wining, with railings to lean on and hold on to and benches to kotch a foot up on.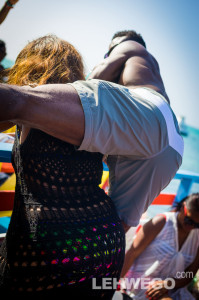 And just when I thought to myself, this is a pretty good fete…..
We reached nylon pool!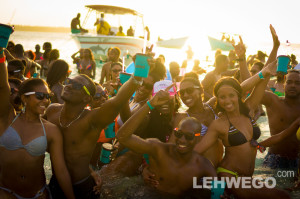 Nylon pool is a small shallow area out in the middle of the ocean near Tobago. The shallow depth makes the waters warm and brilliantly turquoise. The best way to describe it is that its like maiden cay in Jamaica if the water came up to waist level over the island.
This is when the party went from just great to EPIC!
The beauty of the location. The intimacy of the crowd. The mixing by the musical gods and the rum all came together in a magical mix.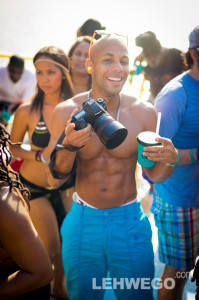 We were sad to see the sun go down and head back on the boat. But the vibes continued…..In the pitch dark…on the boat…..all the way back to the dock with chants of "we want MOR" at the end.

Take a look at pictures
And
And see the video below