Caesars Army IN.DE.PAINT.DANCE GOLD beach jouvert 2012 review by Feli
 IN.DE.PAINT.DANCE GOLD 2012 review by FELI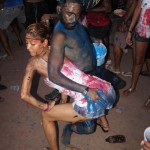 Yet another great Caesars Army event! in.de.paint beach breakfast J'ouvert 2012. The event was carded for 2am to 8am Independence Morning! Best 24 hours of sleep I ever lost and didn't care to find!
Shuttles had to be organised separately as they weren't incorporated into the event this time. Music, drinks and vibes hyping us up to the event. When we got there it was just pure vibes and level paint!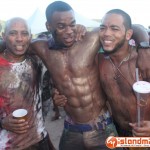 People wearing J'ouvert outfits, some in just bikinis and swimwear and a lot of people in patriotic colours to celebrate the fact that it was Trinidad & Tobago's 50th anniversary of their independence. Everyone put their party on pause to sing the National Anthem as a sign of respect to mark the occasion at the request of the event coordinators.
Then the real party started! Everyone was dancing all in the sand! There was even a guy that started to roll to a soca song that had the words 'roll' in it. I mean the man literally had his entire body on the ground in the sand and was rolling from one section of the party to another and people had to jump over him as he rolled! I couldn't stop laughing amidst my shock!
I never danced with so many women! Everyone was just feeling the vibes and dancing with each other. Not a single fight to my knowledge in the entire event! The drinks were rolling and the breakfast was a hit to sober us up! The music was on point with just enough of every genre and from all eras.
Then they opened up the barriers and everyone just ran towards the sea! Gosh it was serene! It was a way to relax and unwind, sobering up to the close of the event!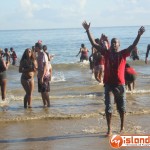 Then before we knew it….it was over and we were on our way home knocked completely out! (most of us anyway).
The anxiety of the anticipation of the next in.de.paint 2013 is unbearable but worth the wait indeed!
Thanks Caesars Army yet again for a fabulous well-organised event!
Much Lovez
Feli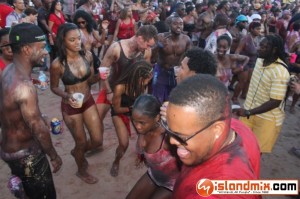 thanks to Delzine photography and Islandmix.com for the photos!  SEE MORE PHOTOS HERE!
I AM A MEMBER OF CAESARS ARMY!