Building a better costume for Trinidad carnival 2013
Well the main bands for carnival 2013 have launched and and most of us have selected outr costumes based on various criteria. I too have chosen, and if nothing bad befalls me, should be playing with Tribe in Jezebel.  I for one am not a fan of the wings and so will not spring for that option.  I  have noticed that a few other bands also have some really nice examples of good male costumes.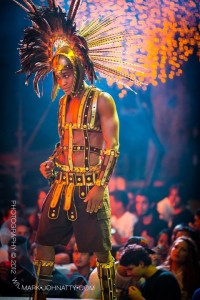 LEVEL UP
ThinkAkil and I (ManLi) have decided to spruce up our costumes to look a bit beyond ordinary. I think that this move may be due to being spoiled by the nice headpiece we had in Yuma Apache for carnival 2012 but I want a better headpiece!  Headpieces on testosterone are more impressive and still allows exposure of all the hard work you put in at the gym by not covering up the torso. I am going toorganize my own, better headpiece, and I plan to take you all along for the journey. ThinkAkil and ManLi will go from idea, to design ( we have already identified designers), to prototype and then hopefully to finished product.  It has to look good, MANLY and yet not be expensive because no matter how good it looks it likely wont make it past lunch! (just need a few good photos in it)
SO FAR….
So far we are in the preliminary stages.  I'm going for the winged helm look (like Thor)  while ThinkAkil will be going for the savage Mohican/King Leonidas look with a feathered mohawk.  Of course we will make changes as needed to try to fit in with the general theme of the band and the colour scheme of the costume.  For example…I do NOT want a full helmet, thats a good way to get heatstroke in the hot trini sun!
Keep an eye out for more as we proceed on our quest!  In a few days we will reveal our designers and their preliminary designs!  STAY TUNED!
Which would YOU prefer?
thanks to wilmarkjohnatty.com for the nice photos from HARTS