Best male costume for Trinidad 2013…FIGHT!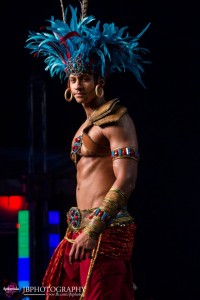 Looking at Bliss and Yuma costumes last night showed me once again how little male costume design is valued by some of the big bands.
Now as a seasoned reveller I am the first to tell you that all them fancy decorative peices get thrown away at lunch (some of them don't come out the box).  Still, I still want the option to start the day looking like a Caribbean Spartan, sea creature or savage.  At the very least I can get a few photos with the full getup to look back on when its all over.
Case in point is last year with YUMA.  I loved my apache costume!  I threw away all the parts after lunch to get to the real business of unimpeded partying but got several good photos all strapped up.
That is what we want as men.  We may not wear it all day, but if it looks good we will at least wear it for a while and bask in the attention for a few hours.
So far out, of all the bands that have launched, I think its fair to say that Fantasy have the best costumes and surprisingly Yuma, the worst. Fantasy's costumes are better designed and more intricate than the rest so far.  Tribe hasn't done a bad job either with their winged designs, and although I likely won't wear them, wing are a new thing for men from my few years playing mas.
I am still playing with Tribe but would have no problem fitting into a Fantasy costume if the need arose:)
The launch season is not finished yet.  Lets see what Island People have to offer.