Beach House has for years been firmly entrenched on Lehwego's Fete list for carnival in Trinidad.  Its combination of good food, endless drinks and eye candy willing to pelt waist is the kind of stuff lengends are made of.
Last year however, there were a few hiccups which left me less than fully satisfied with the event.  We arrived at approximately 5pm last year and found that most of the food was already finished and all me and my cousin (Randomli.com) could find to eat was a small cup of completely rock hard frozen ice cream.   Now, while we did have a time and made the best of the fete, the sensation of starvation did take away from the overall vibes a bit. As well, we did notice a bit more congestion at the bar than usual, which was attributable to the huge crowd in the venue last year.
This year we organized transport and reached the venue at 3:30pm and as usual found it tastefully decorated and this time surroundedby bars.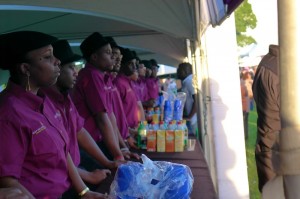 The main bar in particular was extremely well staffed, to the point where they could barely fit shoulder to shoulder.  This resulted in me walking up to the bar in the heights of the fete and getting served instantly, often by more than one bartender!!!  The bar service was the best of any fete I have been to…EVER!!!! (seriously)
The food selection was excellent and I was able to eat my fill in relative comfort before the fete really got going.
The crowd was beautiful as usual, a factor which is NEVER a problem at Beach House.
The crowd, though still huge, was smaller this year.  This is likely due to other fetes popping up on carnival Thursday.  I, for one, am thankful for the competition.  The crowd density was perfect this year because of it and competition spurs promoters to give patrons more bang for their buck.  Let the competition for Lehwego's attendance begin!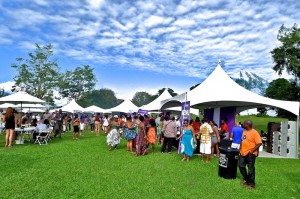 Once the sun started to set the vibes started and did not stop.  Apparently my shirt had a button malfunction and had to be removed, but it was all good.
A special shout-out has to be given to the ministry of appreciation!  You know who you are!
In conclusion I can say that this was one of my best Beach House experiences and this fete will stay firmly entrenched on  my fete list.  If you haven't already, I suggest you give this a try.
See below for the video review.  I had a tabanca attack while making it:( .Thankfully Frenchmen Bazodee is coming up in the Jamaica carnival season to ease my pain
Remember to send your best Carnival monday, Carnival Tuesday and Carnival Hottie photos to [email protected] for OUR collective photo album.  App users, look out for a minor update coming soon and updated galleries as well.
NEXT REVIEW…CANDY COATED EVENTS BUS FETE-A-THON TO BLUE RANGE AND AMBUSH!!!!! (epic!)
click this to follow us on twitter——–>Follow @lehwego