Wining etiquette part 4. Wining grouses from a man's point of view!
WHINING ETIQUETTE: from one Male's perspective
Contributed by "RICO"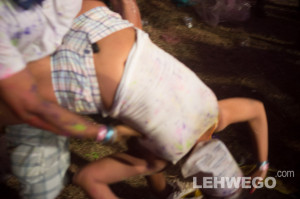 Aite let me quickly put my 2 cents in on the matter at hand…here are my top 5 grouses with females when it comes to dancing:
Number 5 : when a girl wear sometin TOO short and she kno it a go ride up and u in de middle of a SWEEEEET piece a wine an she stop fi pull down her dress -______-… ladies mi a BEG unu…either kno what u in for when u wear it or mek we dance in a dark corner PLZ and THANX
Number 4 : when a girl decides to randomly jump u without warning…just at least warn a nigga so dat i dont drop u on u head back like what happened to me wit a girl one year at ATI….liquor is a hell of a drug
Number 3 : dont take me to the ground and stay there….the perfect whine involves (for me at least) when u a BRACE pon a girl and she can feel de ting 😉 i.e. de whine nice till it turn me on….no need to play Faye-ann where we drop pon de ground and roll all night…no thanx…clothes mus stay clean (unless is jouvert den anything goes 🙂 )
Number 2 : Ladies please if u kno u sweaty and ting dont go too hard. Nothing is worse dan dancing wit a girl who look good and smell bad (enuff said)
Number 1 : WHINE TO THE BEAT OF THE DRUM!!!!….I had an ATROCIOUS experience goin out wit a girl one time and she could not dance for shit! I thought girls knew how to generally whine…if Bonnie and Clyde (the slow reggae version was playing) my girl a dance like she hearing palance to raas….nothing is worse than a girl who cannot move to the beat of the music OR dances WAY TOO HARD like she proving a point…whoa there horsie …slow down the song not running away…listen and move accordingly and stop attacking my waistline
Finally some contribution from the men after years of hearing the ladies grouses.
I hope this starts a new trend with more of my fans coming out of the writing closet to contribute.
Fellas what u think? Any more to add??