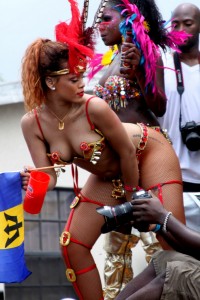 Over the years, Crop Over has gone through something of a transformation and has incorporated several aspects from Trinidad Carnival, successfully I would say, in fashioning a festival which retains maybe slightly less cultural value to the traditionalist, but more entertainment value to the younger generation. And to visitors.
Trinidadians constitute a LARGE contingent of the persons who make their way to participate in arguably the biggest summer Carnival in the world. I'm not going to try to convince you that Crop Over is on the same scale as Trinidad Carnival, but I would make the case that its modern development allows it to rival any Caribbean-styled Carnival in the world.
The timing of Crop Over is central to its success. While Barbados benefits from summer all year round, Crop Over lies smack dab in the middle of the summer of most multi-climate countries. It's a good time to take some vacation, kick off your shoes and just enjoy the ride.
So, out of all the places you could go to this summer, why come to Crop Over?
1. The People. There will never be a better time to talk to and get to know people in Barbados. As a tourist destination, we are well renowned for our hospitality, but during Crop Over, everyone is welcoming, friendly and generally just all out fun. Everyone is happy, everyone has a smile on their face, everyone is dancing, everyone is looking forward to the next party, everyone is getting drunk and doing crazy stuff (within reason of course). It's infectious. The party is island-wide. Productivity is at an all-time low, vibes are at an all-time high. Get lost in the masses. Even going to the beach will be more enjoyable at this time than at any other.
2. The Parties. There will be a separate post on this later. To understand Barbados is to understand that we are generally a "formal and conservative" society. You wouldn't believe this if you went to a fete or a lime during Crop Over. The fact is, partying in Barbados during Crop Over just isn't the same as partying outside of the season. Whether it's a lime, a bashment fete, an all-inclusive or a cruise (sweet baby Jesus, God bless the cruises!), partying in Bim goes to another level. Drinks, music and vibes all come together to create an incredible atmostphere. More on this later…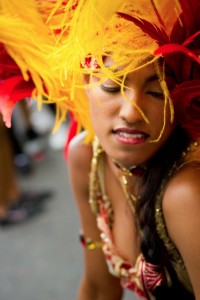 3. The Women. Let's face it – from a man's point of view, it's really NICE to be literally surrounded by some of the sexiest people you may ever see in your life. Dressed in some of the sexiest outfits you may ever see in your life. Dancing in the most shameless manner you may ever see in your life. Feast your eyes on the bonanza. And don't forget to take a wine while you're at it! I love my Bajan women and Crop Over is when all of them come out from wherever they've been hiding for last 10 months, to show off just how ridiculously hot they really are.
4. Kadooment Day. When it all comes together. The carefree beautiful people, partying like mad hyenas in road, from Warrens all the way down to Spring Garden. It's only one day and it's all over in a matter of hours, but I guarantee, you will never forget that time on the road, not for the rest of your life.
It's also comparatively a FAR more affordable alternative to Trinidad Carnival. I will give you a breakdown of the budget in a subsequent post.
One small word to the wise before I go: Barbadians are hardcore seasoned drinkers. If anyone invites you to drink with them, I beg you, PLEASE be conscious of your limit – do not assume you can drink with these people…you probably can't. We're not trying to get you drunk, it's just that we can't help ourselves. 🙂
Convinced yet?
Thanks to Slawekkozdras and fashionfashion.com for the images.
Keep your eyes focused on Lehwego.com  for the essential things you need to know to make your Crop over experience the best it can be!