Remembering the Powerhouses.
We all know how it goes at carnival time.  We go from fete to fete, night and day, throwing wine left, right and centre.  Almost immediately our wining partners  become a nameless, faceless barrage of faint memories to never be remembered again.
This post is dedicated to the few, special, wining partners who etch themselves into your memory. The ones who you can mention to your bredrin 2, 3 or 4 years later and say " you remember the powerhouse from 2009″ and immediatelythey know of who you speak.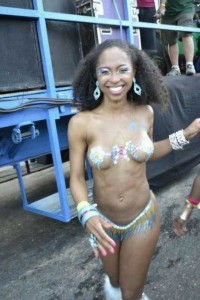 From a guys point of view these prime specimens are almost supernaturally attractive.  They have un-natural self confidence developed by years of looking good and can often be found on the road carnival Monday and Tuesday dressed in only a few strategically placed rhinestones, some string and minute patches of fabric that are more for artistic effect than actual coverage.
When they bless a man with a wine they leave no doubt who is in charge, who is the powerhouse.
Your friends will even grudge you for besmirching her with your wine as they wanted to besmirch her.
I'm sure that there is an equivalent for the ladies as well.  Many of us guys make the effort to be that one guy that etches themselves in your memory.  Who doesn't want to be a powerhouse?
To this end, I'm going to invite you to keep adding photos in the carnival hotties album of the Lehwego facebook page.  Use it as a way to hopefully identify your personal powerhouse and to share your powerhouse package with the rest of us.
Keep checking back often…My Sunny Side Up review and video is still coming….
click this to follow us on twitter——–>Follow @lehwego