Male physique competitions. The perfect carnival body
As a man on the road for mas at carnival you can always rest assured of a good time no matter what!
The thing is that after a few carnivals you realize that you want more. The inner narcissist in you craves ever increasing attention and awe from nearby revellers.
Carnival is all about first impressions. No one cares if you have a good personality, and so it's the superior physical specimens who get that attention.
Some guys are just born in that category, smile to kill, 6'5″, good muscle tone etc etc.
The rest of us have to work for it!
We work hard daily for years to get the bodies we want, and then make the time and money needed to enjoy the fruits of our labour at carnival.
On the road, in between wines, we perform our well practiced routine….abs tight, brilliant smile, quarter turn…..hold it….hoooold it, (flash) relax!
Recently I found that the powers that be in the IFBB must have a coupleTtrinis on it cause they have made a category just for the male hard bodied reveller.
Male physique competitions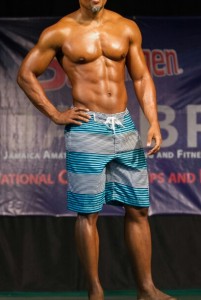 This category is basically a lightweight bodybuilding section for guys unwilling to wear speedos. It emphasizes a pleasing, athletic looking physique without the competitor looking overly muscular like a bodybuilder. Basically, Asafa Powell would clean up in this section if he ever took it on (he should, running career done!)
The competitor wears a pair of board shorts that reach to just above the knee. Walks out In front of a crowd, and flashes a brilliant smile while flexing the hell out of their well oiled abs. Basically practice for carnival Monday and Tuesday!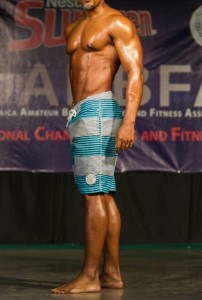 I have recently begun a journey to push myself out of my workout comfort zone and this may be one way to achieve that with respect to my physical development. Next year I will try either this or a full bodybuilding competition as the pressure of knowing I will be up on stage infront of a crowd is more than enough motivation to work out.  I do not want to flop….ESPECIALLY if I take the plunge and go speedo in the normal middleweight bodybuilders category.  The added benefit of being in kick ass shape for carnival makes this a perfect endeavour.
I am sure the journey will be fun and exciting though and I can't wait to share it with you all.
Big Thanks to Infuzioninc for the photos!
How are you getting ready to be at your best?