Crop Over 2013 – Invasion!
Already, Dragon Fly Mas has launched their band for Crop Over 2013, signalling the anticipation of Crop Over 2013. Time to get your money up and see what you can put together for the greatest summer festival in the world – this is no wanton boast.
The landscape of Crop Over however is about to receive a signficant make-over. There are reports of something resembling a Trini invasion and, in truth, that invasion has been on the cards for some time. For years, Booze Cruise, a Barbadian production, on the MV Harbour Master in Barbados was a party which Barbadians and Trinidadians enjoyed in equal measure. Ironically, both Booze Cruise and Roast Cruise, another Bajan product, crossed borders to Trini waters and were well patronised by all reports.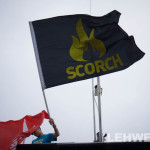 Scorch Cruise has now established itself over the past few years as a staple on the Crop Over scene and a highly anticipated party…and rumour has it that Scorch will be doing a Foreday Morning band as well! On top of that, both Caesar's Army and Beach House have made public announcement that they will be touching down to bring their respective popular party experiences to Barbadian shores.
How to feel about this sudden invasion? Well, it depends on what you are looking for and what you will expect. Many persons don't like the idea of Carnivals becoming "homogenised" across the region and prefer to only go to the local events, whereas others will go to any event they consider to be quality, regardless of whether it is local or not.
My view is that each Carnival should maintain a local identity BUT if the influx of other events results in greater competition leading to greater quality in events overall, I have no problem with it. For the most part, my Crop Over schedule will remain the same, with the odd addition of an event here and there since I missed out on Carnival earlier.
This year promises to be an epic Crop Over and I would encourage any and everyone coming to experience it in the uniquely Bajan sense…after all, it only happens once a year!
[amazon asin=B004Y0RBQ8,B0027IC05G,B000VI7CD4,B005J74YQK,B0055ALL9E&text=www.amazon.com&template=carousel&chan=default]