Contribute to a worthy cause!
3 years ago, after reading a long article about carnival stockings, I realised the need to look at carnival from a man's point of view.  Lehwego was born!
I have had a wild journey covering MANY carnival topics (google carnival topic + lehwego and see for yourself) and the site has changed dramatically from those early days.
I have slowly shifted over time from writing mostly opinion pieces to giving helpful advice on parties as well as photo and video reviews of these parties.  It's important when spending thousands on a carnival trip to know that you are going to parties that meet minimum standards and thats some of the information I try to impart.
I started with a tiny point and shoot (and I mean tiny) and over time have slowly moved forward to now having the minimum required to do what I want with acceptable quality.
For next year I want to move this one step further with better coverage and coverage of new carnivals in the caribbean and beyond,  but I need your help.
Just a little more equipment is needed to bring the images and video you deserve.  I will take care of the rest of the sites needs.
Take a look at our Rockethub site by clicking on the image below.  Donate what you can.  Be it one dollar or 100.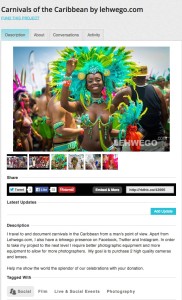 We are carnival from a man's point of view