Being the New Kid on the Block Ain't Easy
This saying is especially true when speaking of managing a Crop Over band in Barbados.
As it stands, the vast majority of bands are established entities which have been around for years and have a core group of supporters and revelers who are not really interested in switching bands because they already know who all of their friends are jumping with. This is a microcosm of Barbadian society really: there is a reason why Blue Box Cart revelers are easily identifiable; there is a reason why every reveler in Baje International looks like a familiar face from some "exclusive" fete you've been to; there is a reason why the Betty West and Gwyneth Squires band seem to attract a "more mature" (not older, lest I offend anyone ) demographic.
[amazon asin=B000DZF7T6,B0027IC05G,B009KAFP0G,B000KHTDM4,B000N62U3G&text=www.amazon.com&template=carousel&chan=default]
This is not an indictment of  Barbados society's clearly defined stratosphere, but an acceptance of it. So it is much harder for a new band like say, Fantasy Barbados and Dragon Fly Mas, to break out and be successful when considering that it is catering to revelers who perhaps have already made up their minds, in theory, who they will jump with. Also, the Barbadian market is much smaller when compared to the market to which Trinidad Carnival caters to.
History backs up this point-of-view. Bands which promised a lot, but floundered under the pressure of reinventing themselves so as to not only attract new revelers but also retain their old ones, include Campus Boyz (I don't think I ever saw a Kadooment band with more "vibes" than Campus Boyz, the definition of "bashment") (photos of Campus Boyz in 2008 ) and RevelVibes. The hype surrounding these bands when they initially launched was intense in the beginning, but ultimately short-lived. Another band that comes to mind that is no longer with us is Berger Boyz, which not only was known on the road but also held very popular parties.
Considering the relative size of the bands and how quickly they sell out, you could easily make the argument that Contact, Power X 4 and of course Baje International are the 3 most sought after bands for Crop Over. Of these 3, Baje is the easily youngest – at 15 years in the game, since 1999. Power X 4 and Contact have been around for as long as I can remember.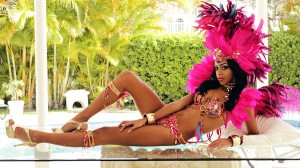 At some point, you have to think that by virtue of an inevitable generational shift, a new band will force its way onto the scene to take the torch from the older more established bands. Fantasy Barbados looks to be making some headway in this regard, now in its 3rd year and having earned a reputation for a great on the road experience, but there's no disputing that, as far as the creme de la creme of bands goes, Baje remains king – for now. For sure, it will be interesting to see what the newer bands bring to the table and whether they can make the leap that so many other bands have failed to make in the past.
WHO ARE YOU JUMPING WITH?