Where to fete (WTF) October 11th, 2013. FLASH- Light up the Night for Miami Carnival!
This year Miami carnival looks like it will be sizzling hot!  If all goes well a few members of the Lehwego team will be there to take it all in and share it with you.
Here is info on one of the many shows that will be on offer.  Take a look…Buy a ticket!!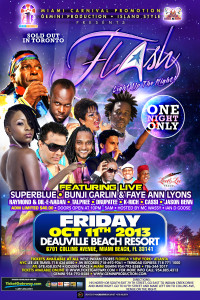 Flash!
One night Only
Sold out in Toronto, Canada, first time in the U.S.A.
SuperBlue-7 times Int'l Soca Monarch winner, alongside his son-in-law Bunji, and his daughter Fayann.
Also Talpree, Drupatee, K-Rich and Cassi…..Get ready to " Light Up South Beach " get your tickets online at www.ticketgateway.com
Click on the Flyer above for more info on tickets in your area!