Your guide to Jamaica Carnival
As of 2017 this Guide is now outdated…..new guide coming soon!
Why you should come!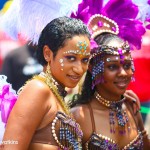 After a wild and wonderful Trinidad carnival, many of us return home to our bland existences and resume our lives as mere mortals.  We sit at windows with our ipods pumping soca, dreaming, wishing to relive the euphoria of the road, if only for  a short while.  Well people, let me tell you that for years I have returned home to Jamaica and done just that.  Jamaica carnival is the sunday after the easter weekend.  You can finish Lent and then come celebrate with us!  It's a chance to see carnival from the point of view of Jamaicans who ONLY hit the road to party.
How to get Costumes
Only Bacchanal Jamaica has costumes and a package for the road march, but new for this year they have allowed several private sections to take part.  Each section brings their own costume and carnival experience.  So far I have heard of 4 new sections.  One of these is LEHWEGO+SLEEK .  The road experience with Bacchanal has ALWAYS been top notch.  The prices are quite reasonable.  If you don't want to don a costume or need to save money you can also purchase a wristband and t-shirt option for around 300usd.
LEHWEGO + SLEEK will have a section of costumes in bacchanal Jamaica.  Stay tuned to those respective pages to see what the excitement is all about.
Where to stay.
Most of the reputable hotels are in a section of Kingston called New Kingston.  Right by the old mas camp location and about 5 minutes drive from the new location.  Hotels like Spanish court, The Jamaica Pegasus and Courtleigh are some of the more comfortable locations with more amenities.  All these hotels will be comfortable and will take care of all your needs in terms of accomodations without fear of renting a dive.
The Marriott hotel has also opened its door in the heart of new Kingston. (link coming).
Transportation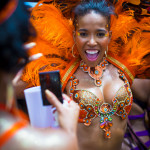 As a foreigner the safest bet is to use JUTA (Jamaica Union of Travellers Association Ltd).  They will offer you safe, reliable transport to wherever you need to go.  They usually have units stationed at most of the reputable large hotels in the Kingston area.  (JUTA; [email protected]; Kingston 926-1537)
Just a Tip! Always ask the dispatch officer the price of your trip on the phone!!  A foreign voice while in the cab= a foreign price.
Renting a car is also an option.  Car rental is easily available online.  Alternatively, One of Jamaica's largest and most reputable car-rental companies is Island CarRentals (www.islandcarrentals.com); Kingston (926-8012; 17 Antigua Ave); Norman Manley International Airport (924-8075);
Fetes
For the most part the soca parties in Jamaica will be smaller than the enormous fetes you have come to expect in Trinidad but don't let that fool you.  The music is pretty much the same and the vibes can be nice if you hit the right ones.
Stick with my party list.(<—-click the link for a complete listing updated anually)
EasteFriday- Morning Mas. In Kingston
Easter saturday- Frenchmen rise up Breakfast fete, Beach Jouvert   (OCHO RIOS)
Easter Sunday- Marbana,  TJJ/Bacchanal Cruise. (PORTLAND/OCHO RIOS)
Easter Monday –  Dusk (Kingston)
The remaining fetes are in kingston
Tuesday- Tabanca Tuesdays
Wednesday— "I Love Soca Cooler Fete"  at an exciting new venue to be announced.   This fete was the one that started the trend of new carnival week fetes a few years ago and is guaranteed to be a hit.
Thursday— Blocko.  A street fete in one of our upscale neighborhoods.  This fete is NOT all inclusive and tends to have more posing than fete-ing but has attracted the likes of Machel Montano and other stars when they are here.
A new local fete is Fantastic fete just added to the calendar
Friday– We have our jouvert 2 days before the march.  Held at Bacchanal mas camp this is the final edition of their friday parties and  ends off in a rolling street party through the streets of the corporate area of New Kingston.  Recently other j'ouverts like Caesars army have sprung up as well.
Also on Friday is SCORCH,  Vale and Medz breakfast fete 
It's safe to call Friday's FOREIGN FETE FRIDAY here in Jamaica
Saturday–3 main fetes on Saturday      Sunrise–  I cannot adequately describe how good this fete is in words.  Please read the review.
Bazodee… This party is the Beach house of Jamaica carnival.  Beautiful people dressed beautifully, fully stocked bars, delectable cuisine…CHECK, CHECK, CHECK.
The new kid on the block for Sunday is CARNIVAL AT NIGHT by socavsdancehall. It promises more vibes and a more energetic crowd than bazodee and patrons are encouraged to wear a part of their old costumes to complete that carnival vibe. .
The great thing about all these fetes is that the most expensive one comes in at about 90usd (Bazodee), with most costing around 40-50usd  The value for money is EXCELLENT!
The Road!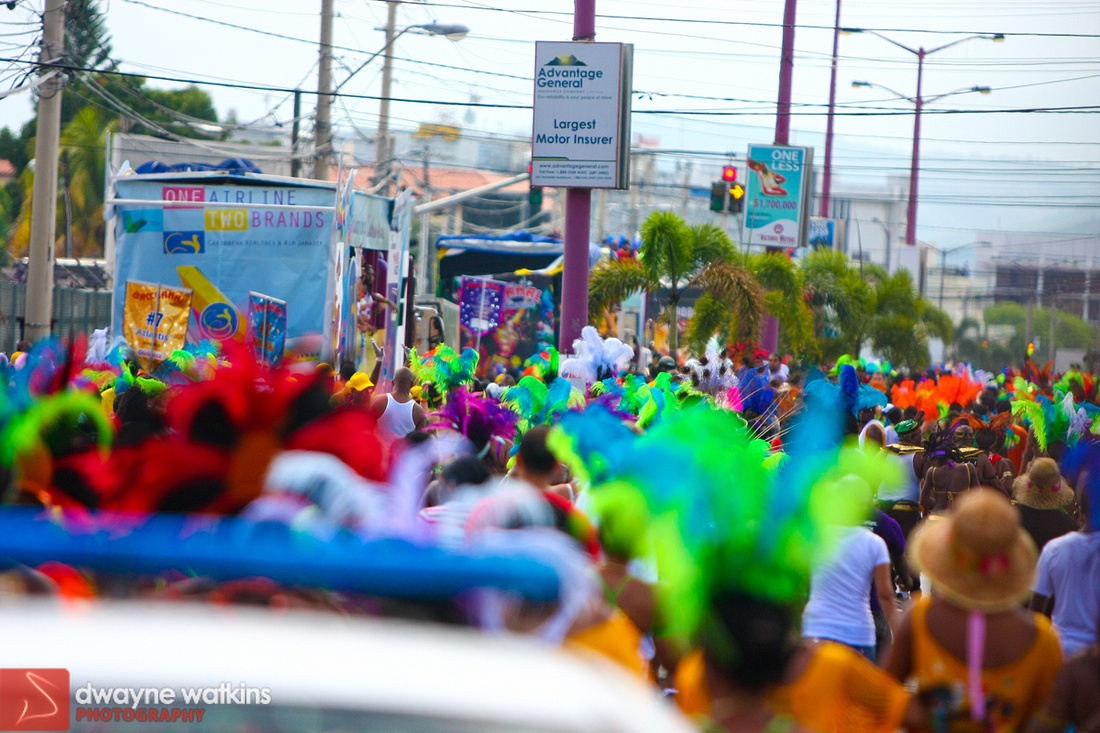 The roadmarch in Jamaica traditionally starts around 9am at the national stadium and ends at about 7pm at the start location, Bacchanal Jamaica Mas Camp, located at the stadium.    The parade usually has a few thousand participants and tens of thousands of spectators along it's route.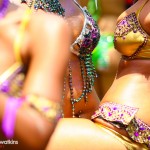 Our costumes are all traditional bikini, beads and feathers as we have no long traditions or history as it pertains to carnival.  Our experience with carnival is that its a rolling street party filled with scantily clad, beautiful people obsessed with the need to wine (more or less).  So you don't find too many people trying to look pretty or posing.  Most are, to some degree, trying to get their party on.  Even the overachievers, with their collars and big headpieces, can be found taking a wine.
We have all of the amenities that come as standard fare in trinidad as well as a few little "extras".  We have little bags of water that we use to keep hydrated and, inevitably, to use as ammunition in the rolling water war that results soon after their release to the crowd.  You will also see the occasional bacchanal staff carrying platters of finger food or a mobile bucket bar.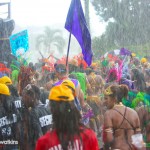 The sun in April isn't too bad but you will still need some form of sunblock.  Its not unusual for a short midday shower in april as well so mentally prepare for that possibility.
Lunch is usually straight to the point.  Eat….rest….gather your strength for the afternoon. That is unless you are a Lehwego+Sleek reveller. They will have air-conditioned lounge, makeup touch up, sweet treats etc.
Security is good and even at points where it is lax, our culture is such that stormers rarely appear in the band.  Spectators know to stick to the sidewalk and follow along.
Crime is non-existent during carnival but don't do anything reckless please!
The road march ends at the Bacchanal mas camp at about 7pm with dinner for the masqueraders followed by an afterparty.
So there you have it.  A barebones guide to help you start planning your trip to CRUSH your carnival Tabanca.
Cost effective and fun.  Can't beat that!
If you have any questions feel free to email me at [email protected]
Will you be coming to JAMAICA CARNIVAL?