Take a shuttle bus to Beach Jouvert!
In a few weeks time the lehwego team will be making its way over to James bond beach in St. Ann Jamaica for Beach Jouvert.
This event is one of the few remaining bacchanal events that I still find interesting enough to goto. The vibes are nice, the crowd (though a bit young) looks good and it is certainly well atttended.
Being in Easter weekend there is a cornucopia of parties being held over the three day period. Kampai and Daydreams being two of the heavy hitters. Although these parties are fantastic I am an old man with a family and I am busy earning my free papers for Jamaica carnival and Cropover. I have no time to put into a party weekend. This means I'm coming home right after hours of partying at Beach Jouvert via a dark winding mountainous road fraught with road hazards and worse of all, Jamaican truck drivers!
It's not worth the stress unless someone drives for you.
That's where the shuttle buses come in.
For a small fee (15-20 usd) they will carry you to and back from the beach starting at a central location in Kingston.
Here is the hookup for the three buses I know about.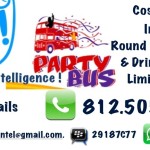 Soca junkiez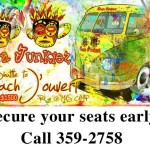 Soca republic
update!!
Soca republic will not be hosting a bus trip this year.
Keep your eyes glued to this page as I will update contact info as well as information on what will be available on each bus as I get it.
We ready for the road!