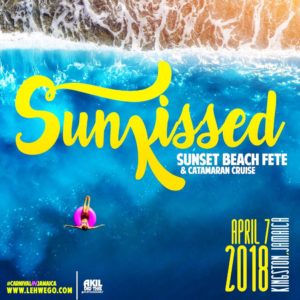 Carnival in Jamaica ONCE AGAIN is gonna grow massively in size compared to last year.
Sunkissed is back again with our Catamaran Cruise to Maiden Cay on carnival Saturday.  We are focused on making this a seamless event worth every penny.
Our focus will be making sure every patron keeps their cups full of PREMIUM liquor and gets a bellyfull of great and uniquely JAMAICAN cuisine.
Keep an eye out for ticket info on the @partyinthsun IG page and on Lehwego associated social media! If you took part last year, keep an eye on your inbox for special offers coming soon!
2018 nothing will stop the vibes!!