Summer. Playground. Fantasy. Learn more about the SPF weekend in Jamaica 2012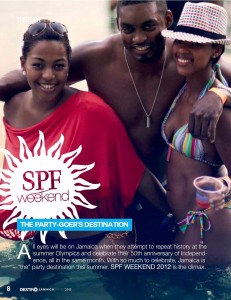 During the summer, we here in Jamaica celebrate our independence and emancipation at the beginning of August, right about the time of Cropover in Barbados. This always results in a long weekend. In terms of the sheer volume of options available, this is easily the biggest party weekend of the year in Jamaica.  This is the time of year where 150USD will buy you 3 or 4 days of back to back all inclusive parties, some of which could hold their own against the best Trinidad carnival can offer.
Today I will be highlighting the SPF weekend.
Summer. Playground. Fantasy.
While ATI has been around for a long time and is well established, there are options for those who want something different.  The SPF party weekend aims to immerse you in opulent luxuries while offering you the best party experience money can buy in Jamaica!
[amazon asin=B00AK3XG8K,B001RAAKV6,B0016H393Q,B00B7DJDXE,B00B2YWX3K&text=www.amazon.com&template=carousel&chan=default]
Similar to Bleu, the event takes part on the grounds of a hidden gem of a resort on the North coast of Jamaica appropriately called "The Jewel".  The hotel is located beside Riu in Ocho Rios and gives a good discount for the weekend if you let them know you are coming in for the party.
The lineup of parties is pretty impressive.
Friday, August 3rd:
SCORCH: CATAMARAN CRUISE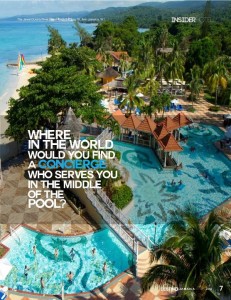 This is a new event this year, hosted by Scorch magazine from out of Trinidad.  It promises a premium all inclusive experience, but you have to jump on these tickets fast because only 200 spots are available on the Catamaran!
This event will also mark the launch of "FLAUUNT".  This is Scorch's Sister magazine aimed squarely at Jamaica.
I tried to get info on the DJ's playing for the event but no luck so far yet.  I will get more info to you on this as it becomes available.
BMN: EYE CANDY
I don't know too much about this party but the organizers say:
"This is an event of pure awesomeness that you have to attend to know how it will actually manifest. BMM: EYE CANDY is the sexy in you revealed…Crispy.Clean.International…never a dull moment."
Saturday, August 4th
FICTION: BEACH
"Join us for a special opportunity to blend romance and high energy party vibes with a surreal mix of 'beautiful people'. The spectacular tropical vistas and green flash at sunset set the stage for a memorable day into night experience. The local and international DJs will pump up the volume as the sun sets and the moon begins its journey over the Caribbean Sea. This is the perfect way to savour the 'Good Life'. Gourmet bites, premium liquor and pulsating beats await you at the all-inclusive FICTION: BEACH."
Sunday, August 5th
This is the highlight of the party weekend.  The one party where the organizers and patrons go ALL OUT!.  Although I have never been I have heard many a good thing about this event.  Here are a few words from the organizers.
"A secluded cove of a private property on Jamaica's North Coast is SOIREE: SPF-05. You enter via a private winding path guarded by exotic palm-filled gardens. Driving down a small hill completes this pilgrimage to paradise…and that's when the magic truly begins.
M7 Events' vision was to create a summer beach party like no other, a feat achieved in just six short weeks of Summer 2011…internationally inspired and minimal chic with elements of edgy urban cool. The result…au naturel dance floors, alluring day beds, sprawling bars and chill out lounges complete the package.
However, looks aren't everything. From Sunday morning at 11am, the all-inclusive SOIREE: SPF-05 will once again be the grown-up playground for sophisticated pleasure. With the who's who of local and international DJs spinning the soundtrack to this fantasy until 6pm, you and your friends can indulge in our seaside menu and luxe cocktails…all created to tempt anyone's taste buds.
Go with the flow and have a great time. Come for the Weekend, stay for SOIREE: SPF-05!"
The entire promotion for the event has a Top Shelf "glow" about it.  From the impressive SPF website, to their great Concierge service with regards to tickets and of course the lovely property. It is also important to note SPF will feature a pop-up Sports Village with live streams of the Summer Olympic Games to show the track and field events so that no one misses an Olympic second.  I will try to bring you more information as soon as I can get in touch with the promoters!
ManLi and ThinkAkil will again labour tirelessly to bring you coverage of this fun filled weekend with the Scorch Cruise as our focus!
SUMMER. PLAYGROUND. FANTASY