Soca fetes in Jamaica, November 2012.
We are on the home stretch.
Christmas is just around the corner and then, BAM! Trinidad carnival will be upon us!
For us here in Jamaica we have to start warming up and working out our muscles as well as our waistlines.  The end of October and the month of November have a few events for Jamaican Socaphiles.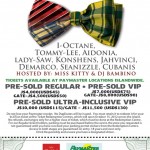 First of all is a big stage show in Montego bay called In2ition.  This show features 2 stages, with Soca and Dancehall shows taking place simultaneously.  The soca artists billed to appear include Machel Montano, Destra, Patrice Roberts, Super Jigga TC, Shall Marshall and Farmer Nappy.    It seems too good to be true, especially given that it takes place all the way in Mo-bay and also the how weak the advertising has been. Lil Rick has the flyer up on his facebook page and Destra has a video promo up for it so we know at least those 2 will be there.  I, for one, can't make it that far and I'm not a big fan of stage shows either so I will be reading about it in the papers just like you.
Advertise with us: email [email protected]
November 4th is SOS in Kingston.  This party is growing from strength to strength with better Dj's, food on sale as well as drinks included.  The last edition had rave reviews from my friends and I'm looking forward to see what the promoters have to offer.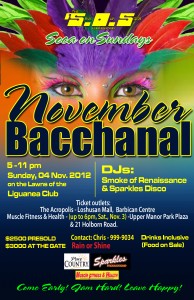 Finally, at the very end of November, is Gems Jamaica, Carnival Rewine.  These guys have not left anything to chance.  They have been advertising on social media for MONTHS and are slowly building a vibe with people anxious to see what they have to offer. Lehwego will be there to check it out as well!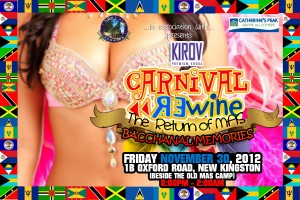 So look out for us…and Smile!
GET READY TO JAM!