Should JAMAICA Carnival stick to Jamaican culture and music?

So twice in the last few days I've gotten into a fairly lengthy discussions as to whether or not "Jamaica Carnival" should represent Jamaican culture. So, let's discuss…
What do I mean by "Jamaican Culture"
As it stands right now, Jamaica Carnival is a small extract of Trinidad Carnival. We play the same music, dress up in similar costumes, maintain the same general format and even have similar 'fetes' around the event. For the most part Reggae, Dancehall, and anything which would identify carnival as Jamaican is missing.
What does carnival actually even mean?!
I think, at least in my opinion, as it stands now, carnival for Jamaicans is simply a reason to let loose and be free in a way that's not possible at any other point during the year. Unlike in Trinidad and other countries where Carnival where is deeply linked to their culture and symbolizes quite a bit, for us in it's current form Jamaica Carnival is just a grand party. Now, there's nothing wrong with that at all (I quite enjoy it!), but, has it ALWAYS been like that?
The difference in music
In one of the conversations ,one of the gentlemen tried to express to me how wonderful it would be to have a carnival with people reveling in the streets to the sounds of Dancehall as opposed to what is mostly 'imported' soca music. After all, Jamaica is the home of Dancehall, so why should JAMAICA carnival not feature primarily dancehall music? It most certainly isn't that we don't have enough music to last.
This point got me thinking. Thinking a lot. Anybody that knows me now knows I love Soca music. It's happy music. It's dance till your feet hurt music. It's music that makes you just want to have fun. While, I love Dancehall music as well, I think the lyrical content, and vibe of the music is very different. For some reason it doesn't make me want to let loose quite as much as soca music does. Before anyone jumps to the conclusion that this is just because I haven't actually experienced a road march with dancehall, I want to assure you that I have an idea of what it would be like. While I may never have witnessed a road march with exclusively dancehall, at both UWI Carnival & for extended parts of the main Jamaica Carnival, they do play Dancehall. For me, at those points, the vibe changes. It's not to say it's bad, because it isn't. But, it doesn't feel as carefree and light hearted.
Another major difference in the music and what I consider to be a major hurdle is the fact that Dancehall artistes currently don't do 'dancehall carnival songs'. It's every soca artistes dream to have their song blaring from all the music trucks during the road march and as people cross the stage in Trinidad. In Jamaica however, our artistes don't even so much as bat an eye at Jamaica Carnival. In fact the few that care about 'Carnival' do soca songs! This may just be a symptom of the fact that currently Jamaica Carnival is so soca based that there is little incentive to do a Dancehall Carnival songs. But, whatever the reason, the fact is right now, our musicans don't care enough about supporting Carnival to create the dancehall music to support Carnival.
Running fast is in or DNA, Carnival Isn't
I'm way too young (I like to think so anyway) to really remember what Carnival WAS like decades ago. But I get the impression that Carnival was for the most part something that was 'imported' into Jamaica, rather than something that is built in to our culture. I Think this is also a major contributing factor in why Dancehall and reggae aren't the feature attractions in Jamaica carnival. For Trinis carnival isn't 'just a thing'.. Carnival IS THE thing. Trinis look forward to Carnival from Ash Wednesday the year before. They look forward to the band launches, song releases, costume reveals and everything else. For them, Carnival is an industry with costumer designers striving to outdo themselves each year and bands trying to do anything and everything to make each year bigger and better. Some may say Carnival is a way of life in Trinidad. For Jamaicans, most people look at Jamaica carnival as something they may or may not do, with no qualms about waiting till the very last minute to decide. It's just not a centerpiece in Jamaican life and culture.
I'm still conflicted
While I LOVE the idea of a Carnival that celebrates Jamaican music and culture, it would require so much that I'm not sure that it would/could happen. It would require government support, artist support, private sector support and so much more. As it stands right now, I'm not sure it will ever get all of that support at once!
On the flip side, I love my carnival the way it is now. I LOVE having something to look forward to after I leave Trinidad Carnival. I love the opportunity to party to soca music in my home country. Because truth be told, here in Jamaica, hearing soca on the radio much less for an extended period at a party outside of Carnival season is a VERY rare treat! To add to all that, I'm not too sure I'd want to be chipping down the road, in my bright red costume, listening to Vybz Kartel….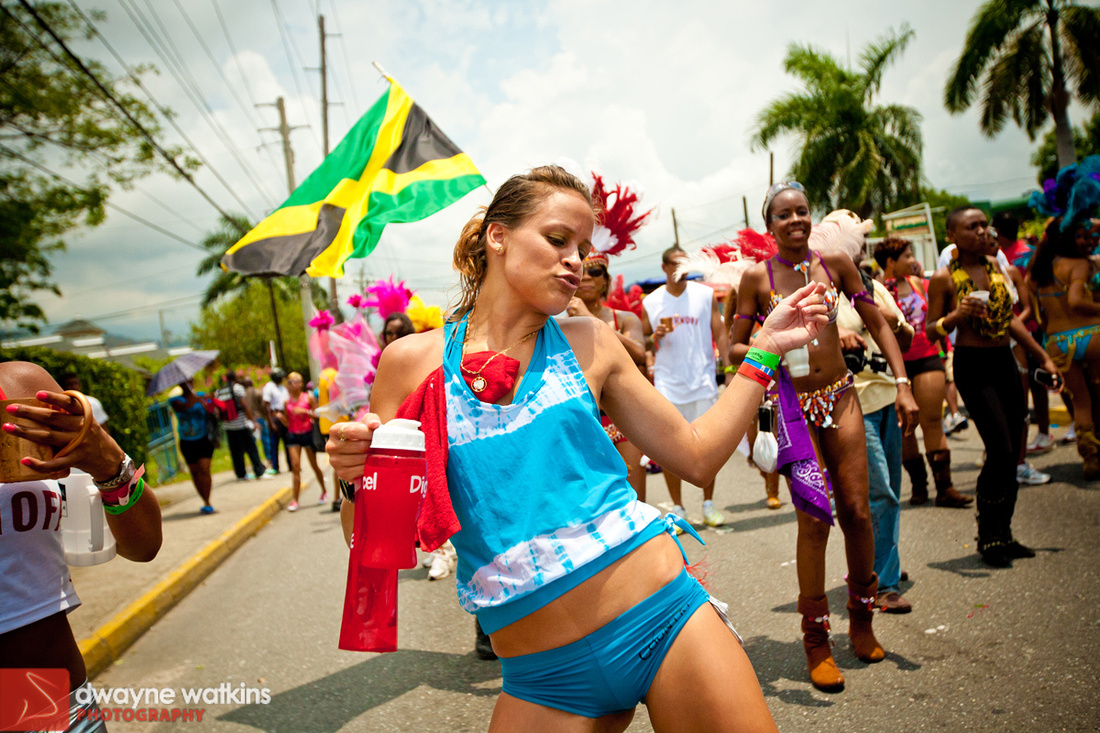 Thanks to Dwayne Watkins (Jamaica's Greatest Photographer!) and Norman Chen for the great photos
So what do you think? Why doesn't Jamaica Carnival capture Jamaican culture? Would you even want that?