May 2013 soca fetes. Get your fix!
Many Jamaican socaphiles are now in the midst of their soca withdrawal after Jamaica carnival. We here at lehwego feel your pain and will do what we can to help.
The month of may is usually pretty slow as most are biding their time till the big summer parties, but we still have a few soca heavy fetes to tell you about.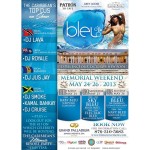 The first is Bleu.
This is an all inclusive party held on an exquisite all inclusive resort, tucked away on the Jamaican north coast. This year they will feature DJ's from all over the Caribbean, but one in particular catches my attention. DJ JLava from the dynamic Trinidadian duo that is DEI MUSICALE. We can expect the best in soca with him at the wheels. Not to mention that Bleu has typically been a very soca heavy affair in the past.
Take a look at their website and book your room fast…they will soon be sold out!
[amazon asin=&template=banner easy&chan=default]
Next up is carnival rewine

This fete is one of the up and comers in the soca market. This is a 100% soca fete so you don't have to worry about sitting through techno or any other genre. They had humble beginnings and at each edition have taken definitive steps to ensure improvement. I feel that either this year or next year will mark a milestone that leads to rewine becoming listed beside other great and established soca parties in Jamaica.
Here is their info