Jamaica carnival "Road March" 2013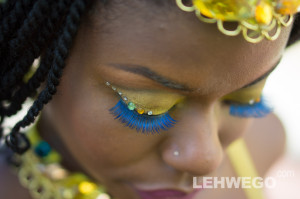 Another year, another carnival double!
Doing Jamaica carnival right after Trinidad is a carnival lovers nirvana.
Jamaica carnival is affordable AND fun!
The fetes are smaller, but fetes like Sunrise breakfast fete prove that Jamaica can hold fetes with vibes comparable to ANY Trini fete.
The road here is more spacious, more comfortable with less blazing hot sun and with a better male/female ratio (sooo few men!).
The first few hours is a photographers dream….the road is your runway and at this point most of men on the road are professional photographers. You WILL be photographed and you WILL look good!
Every reveller here at this point has a personal album of professional photos on their personal Facebook pages.
[amazon asin=B000N62U3G,B001EPQ86A,B008M7OQL2,B0037B8DTE,B001L6LXKS&text=www.amazon.com&template=carousel&chan=default]
The lehwegofrontline crew had a good time on the road and several of the big costumes you see in the video below are by them.
After the road I decided to take a little break. No more soca…no more fetes…no more dieting or gym…..for one week!
Come Monday I am going to slowly creep back into my carnival prep for cropover. Our bajan correspondent "Lawless" will be posting useful tips and advice on cropover prep and fetes in the coming months!
Take a look at the video and ALL NEW PHOTOS BY THINKAKIL  and Lehwego's full album HERE
Also, take a look around the blog by clicking on the categories at the top of the page and take a look here for some of my favorites from when I first started writing this blog.
Next stop BLEU!
Remember to watch in HD!