Jamaica Carnival Fete List
Many have been asking for a more comprehensive list of fetes for the soca season.  To this end I have created this list and will update it whenever the relevant flyers are released.  If you are throwing a fete or know of more let me know!
Continuing Fete Series
 Soca Parties
Saturday March 24th
Soca vs Dancehall. (Lehwego recommended.)

Devon house, Kingston.  This all inclusive promises mostly soca, plenty vibes and plenty action.  The vibes and action will likely come from the amazing selection of uncommon and high end alcohol available at the bar including 3 Flavours of Grey Goose, 3 Flavours of Absolut, 2 Flavours of Bailey's and much more!
Check the Facebook page for more info!

April 4th
French Lyme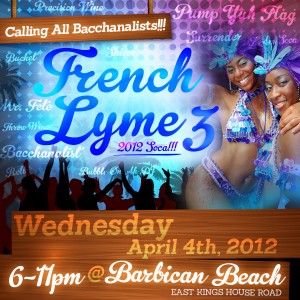 A relaxed and friendly atmosphere greets you at barbican beach this wednesday with frenchmens French Lyme 3.
Soca, alcohol and good company.  A recipe for success!
Best of all, it's free!
APRIL 7th
Beach jouvert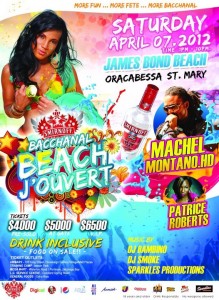 James Bond Beach near Ocho Rios.  This is the holiday weekend before the carnival climax and a must go event for all soca lovers in the island.  Lots of space, paint and alcohol make this one "rather nice".  Top notch performances by big names such as Machel Montano and Patrice Roberts make this event the pinnacle of what Bacchanal Jamiaca has to offer….apart from the road.
If you want a safe and convenient party bus to hit this party with try the Soca Republic party bus (Lehwego recommended).  This bus is organized by a relative of the now famous CAESARS ARMY…..NUFF SAID!!!!  Here is their infoblast:
"Soca Republic presents the ONLY Beach J'ouvert T-shirt crew for 2012!!! Mr & Mrs Fete is the official and only ALL-INCLUSIVE BEACH J'OUVERT PARTY BUS and MR & MRS FETE T-SHIRT CREW!!! Only $5000 for the full package including your DISCOUNTED BEACH J'OUVERT TICKET. $1500 for Mr & Mrs Fete T-shirt and party bus only. We feteing everyday and we don't play! We are Soca Republic! For further info send us a message or call 2855883, 4061986 or 5659062!!! Space is limited. Enquire about the T-shirt only option.."
**For those who don't know its 87 J$=1 US$
Full Review and video to come
APRIL 11th (Day)
Held at Lime Cay, a small island off the shoreline of Kingston.  This is reportedly quite a nice lime full of soca, rum and bikinis…always a good combination.   Best of all its FREE.
APRIL 11th (night)
I Love Soca (Lehwego recommended)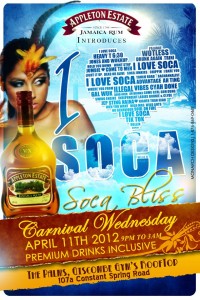 This event by I Love Soca  Jamaica  is one of the new gems in the Jamaica carnival fete lineup.  This year they have a new, bigger, better venue and plenty hype and vibes associated with their name.  I've actually heard of someone flying to Jamaica for one day for this.  This one is a MUST!  See the flyer for details.
Full Review and video to come
APRIL 12th
Blocko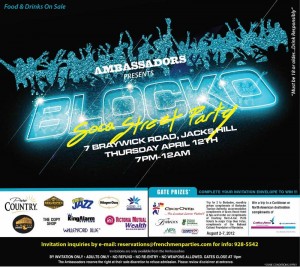 A street party in the affluent Jacks Hill community overlooking Kingston.  The vibes are more subdued in this one but the crowd is always pretty and you may find yourself rubbing shoulders with a soca superstar or two.  Take note…for some reason, this fete is not all inclusive and you have to walk with money to buy drinks.
APRIL 13th
Friday the 13th…..Jouvert!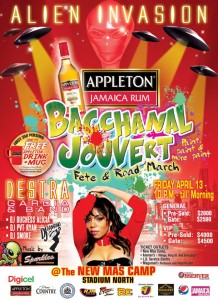 This is the second jouvert stop in the Jamaica carnival calendar.  There are usually at least 2 Jouverts with both Bacchanal and All Island Carnival hosting jouvert fetes in New Kingston (near all the hotels) and both meeting on the road for a rolling street party at dawn.  This year with Bacchanal moving further away from the hotels I am not sure how this will all pan out.  I will keep you posted.
April 14th @4:00AM
Sunrise (Lehwego recommended)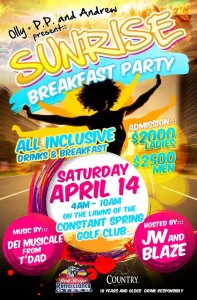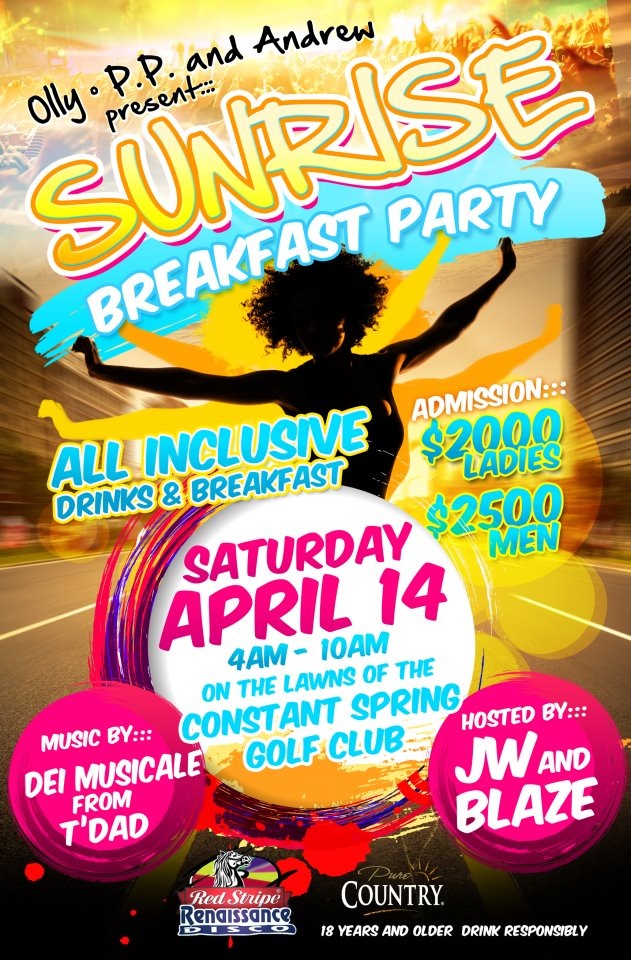 Olly, PP, and Andrew presents SUNRISE 'Breakfast Party', Saturday 14th April 2012 between the hours of 4am to 10am on the Lawns of Constant Spring Golf Club. All Inclusive Party with Drinks and Breakfast. Music by DEI Musicale and Renaissance.
LADIES $2,000 and GENTS $2,500.
Call Andrew at 882-8464 and Ian at 427-1966 for tickets!
Full review and video to come.
APRIL 14th (Night)
Water Party. (Lehwego recommended)

The brainchild of the Island Mas Jamaica organizers, this is a big one.  This is very similar to Insomnia in Trinidad (slightly smaller scale).  The vibes are intense and don't even consider it  unless you plan to get completely WET!
APRIL14th (Night)
Bazodee (Lehwego recommended)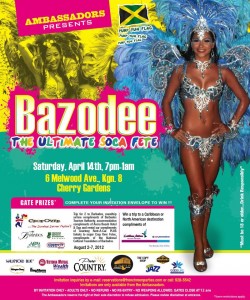 This one basically is the Beach house of Jamaica carnival.  Everything is top shelf and how!  Not only the best food and liquor but also the most beautiful women .  A bit more expensive than the other fetes on my Jamaican lineup but completely worth it.  This one is about 80USD.
Full Review and video to come
 APRIL 21st
Tailwind, Lock it down.  (Lehwego Recommended)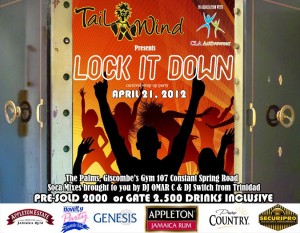 Tailwind is held in the summer as well.  I went to that edition and it was excellent. Nice vibes and a fun crowd.  This will make an excellent "Las Lap" for those with Jamaica carnival Tabanca:)
"Soca mixes brought to you by DJ Omar C & DJ Switch from Trinidad guaranteed to fulfill all your soca needs.
The Palms, Giscombe's Gym Rooftop 107a Constant Spring Road
$2,000 Presold……$2,500 @ the gate
DRINKS INCLUSIVE
Full Review and video to come
As the days go on I will update this post with more flyers and info.
Also, don't forget to check out south coast carnival events.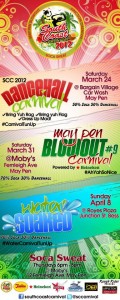 Which fetes are you going to ??