Jamaica carnival fete list update! SUNRISE….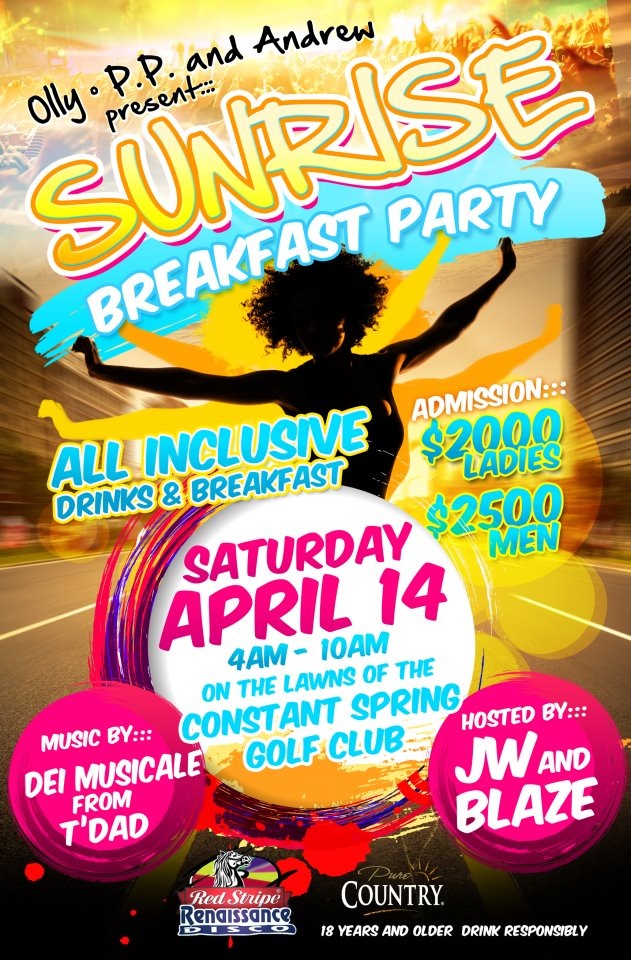 call Andrew at 882-8464 and Ian's at 427-1966 for tickets
Finally, the breakfast fete concept has reached Jamaica.  I tracked down one of the organizers and a man who I feel has a real vision for carnival in Jamaica, Andrew Bellamy .  Here is what he had to say about SUNRISE, Jamaica's first breakfast fete.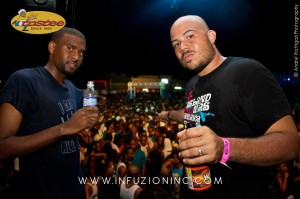 Ian Bourne(left) and Andrew Bellamy(right)….Heavy hitters in Jamaica Carnival 
1. What inspired the creation of this fete.
Well after part-taking in my first breakfast party last year's Trinidad Carnival, I as overwhelmed by the experience and the unbelievable energy shared by people at the party. This year's experience only compounded the fact that what's missing in Jamaica's carnival is clearly a breakfast fete…Hence the birth of SUNRISE 'Breakfast Party' to be hosted by Olly, PP, and myself.
2.What Food and drinks will be available.
The best liquor and brews should be expected given our partners JOHNNIE WALKER, RED STRIPE LIGHT and PURE COUNTRY. With such as partnership one can expect Johnnie Walker Black, Ron Zacapa Rum, Smirnoff Vodka, Gold Label Rum, Red Stripe Light, the usuals and much more. For food we'll be providing the Jamaican favorites along with Doubles(Trini favorite) and Corn Soup.
3. Any special surprises.
Already we have confirmed Dei Musicale from Trinidad and Renaissance to provide endless soca hits. The event will be hosted by JW & Blaze also from Trinidad – wettin afta wettin… Cant give away our other surprises.. Gotta to attend to find out….
4. What about jouvert??:)
We have given consideration for J'ouvert and as such our event begins at 4am and will not clash nor compete with the regular j'ouvert plans…
5. Anything else you want to tell us?
SUNRISE Breakfast party guarantees to be one of the best fetes for Jamaica's Carnival week. The SUNRISE team represents the dawning of new things to come, an eclectic solution for soca lovers in Jamaica, and will be defining the way forward.
So there you have it.  Straight from the mouth of the man himself.
The Lehwego team won't be missing this one at all!
Check out the updated LehWeGo fete list calendar for Jamaica carnival!
Sunrise.  Will you be up??
Thanks to Billy for the amazing photo.