JAMAICA CARNIVAL 2013 recommended fete list
Jamaica carnival
The carnival double quickly approaches, I hope you have been able to make your arrangements to fly to the island continent of Jamaica to enjoy part two of the carnival double I talk so much about.
Though it's not very big or intricate our take on carnival is centered on fun and comfort. So there will be no baking in the sun without drinks…there will be water carried out to masqueraders so you don't have to crowd the bar and in some sections waiters will carry finger foods to you as well:)
But before we get to the road we have our fetes.
[amazon asin=B0027WKAO0,B008HTI72O,B00915T79K,B006X3E51I,B0037B8DTE&text=www.amazon.com&template=carousel&chan=default]
Our fetes
While ours are relatively tiny compared to Trini fetes at carnival time we have some that carry lots of vibes and I think that you get a lot more value for money here in good ole JA.
Let's start by giving you a link to a comprehensive list of ALL the soca parties happening this year.
Lehwego recommended fetes are those that I have personally attended, that have vibes and reasonable comfort levels (drinks, crowd, venue etc)
This post will develop as time goes on with more flyers and details to come soon.  Make sure to bookmark this page and check back often.
Let's begin!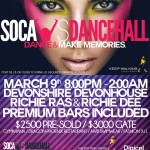 Sundown cooler fete -March 23rd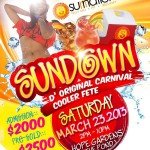 Beach Jouvert – March 30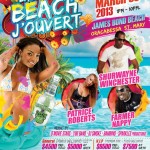 I love soca – April 3rd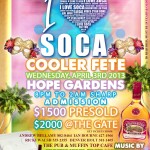 April 5th – Pandemonium.  The carnival experience!
Machel, Shaggy and Superblue!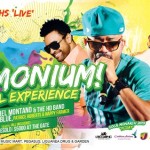 Sunrise Breakfast fete – April 6th (am) (highly recommended!)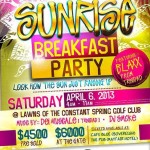 Bazodee – April 6th (pm)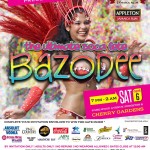 Tailwind – April 13th
Honourable mention goes to:  (first time fetes that MAY be good)
Fantastic Friday – March 29  (new event in Ocho Rios the day before Beach Jouvert.  By one of the promoters of Sunrise and Sundown, PP, and almost guaranteed to be good!)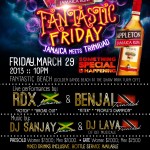 Campari Dancehall Bacchanal.  A new event bringing down Erphaan Alves to perform along side RDX in Ocho Rios right after (as in IMMEDIATELY AFTER) Beach Jouvert.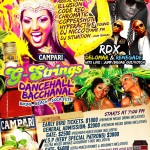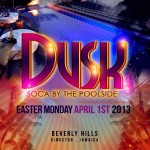 Enamel Cooler fete March 17th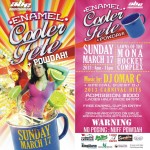 South coast carnival…For those of you in Jamaica but NOT in Kingston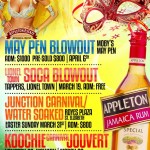 Where will YOU be fetting?