I Love Soca, Cooler Fete Review!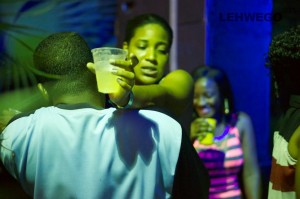 Summer in Jamaica is a soca desert and I was like a parched nomad…dying for a sip of sweet soca.  Thankfully Andrew Bellamy and his cronies had crafted a new soca oasis in the heart of the palatial Hope Gardens.   The venue was fantastic and new, and Bellamy has already made plans to hold Sunrise (Jamaica's only Breakfast fete) there next April.  That, my friends, will be EPIC (just the venue alone will make it a hit).
How was it?
The fete started a bit slowly but things heated up quickly with patrons drinking copiously from coolers and the paid bar.  By the end of the night ALL inhibitions were gone and everyone was taking a wine!
The Dj's kept the vibes rolling with Selector Myles from Trinidad doing well and Dj Richie RAS from Jamaica easily keeping pace!
The vibes at the soca series of fetes by Bellamy et. al. really…truly are epic!  I am really hoping that he keeps up this trend as in a year or two I can see him breathing new life into the carnival scene here in JA.
Keep your eye on the page as within 2 weeks Bleu and Frenchmen will be held and there will be a lot to talk about.
In other news
On a technical note  (for those keeping track of my technological adventures) the sony NEX 5n did pretty well.  I was able to get my shots without a flash but the large street light at one corner of the venue lighting tinted most photos beyond the limits of correction.  Another issue is the 50mm lens (about 75mm equivalent).  The crowd, though not tight, was too close for me to get many of my shots.  A good artist doesn't blame his tools though and I will learn to adapt to the machinery I have (too much money spen arreddi!).
Check below for photos and video!