Way back near the turn of the century, when I was starting my third degree (yes, I'm that old), I started going to a soca fete on campus called "Hard Wine".  This was also when I was starting my longstanding addiction to carnival and so at that time anything soca was filled with awesomeness.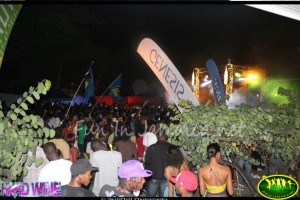 Several years later I have attended yet another edition of Hard Wine….and although it was obviously a blast for the 18 year olds who went and got very sweaty there, it's time for me to call it a day.
The venue is the same from when I was there in the 90s (lawks I'm old).  The crowd is literally half my age.  The music, though good at times, did not touch on some of the good road tunes from the last few years. The organizers owe the Bajan crew a vote of thanks…they made the vibes a bit sweeter.   I think that I am fully used to a higher standard and in the end I think it's just my time to move on.  UWI was great but its time to leave it to the next generation:)
Thanks to fun in jamaica.net for the photos.  Keep checking back as several other parties for old fogies like me will be coming up here inJamaica soon.
Despite the dark conditions and my not enjoying myself I managed to get some good footage for a video summary and continue to practice my video editing skills.  Take a look.
click this to follow us on twitter——–>Follow @lehwego