Get that perfect smile for carnival
I have so many nice photos of beautiful revellers in beautiful costumes ruined by yellow stained teeth.
Its something that I have preached for years  and it still rings true.  White teeth is something that makes you stand out from a crowd.  It makes you instantly more attractive and memorable to people who see you.  It makes you stand out from the crowd (and significantly decreases my photo editing time).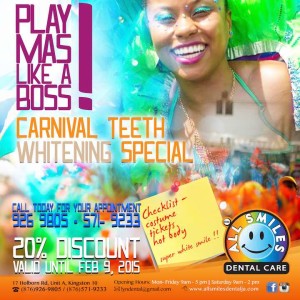 Take the time to look your best for this years Bacchanal road March.   If you  mention Lehwego you can get 20% off your professional dental whitening by ALL SMILES DENTAL CARE and if you are signed up for LehwegoSleek we will also send information to you on exclusive discounts to come soon. Let them whiten your teeth the right way, with care taken to professionally minimize sensitivity and to give the BEST results.
Here is more information:
Teeth whitening is a relative simple process that lightens teeth and helps to remove stains and discoloration.
There are two options for Professional teeth whitening, the in-office whitening procedure and the take home whitening kit.
In – Office whitening may involve 2 to 4 visits of approximately 45 minutes each.
For the Take Home Whitening you are given custom trays that are made in the dental office that fit your teeth perfectly . These trays are worn with professional strength whitening gel for a few hours preferably at night and results are usually seen within 2 to 4 weeks depending on the level of staining.
At All – Smiles Dental Care we advise all our patients interested in teeth whitening to come in for a consultation at least 4 weeks before your big event. Before teeth whitening is done, the mouth has to be in "tip top "shape ,all cavities have to filled to avoid sensitivity and further damage to decayed teeth, teeth have to be professionally cleaned to remove any outside stains and calculus build up, and to ensure gums are healthy. The most common side effect of teeth whitening is temporary sensitivity of teeth for which you are treated for prior to and during treatment.
After having your teeth whitened, certain white fillings or crowns may need to be redone to match your new shade. Touch-ups are generally needed to maintain your desired shade, depending upon habits .eg, smoking.
All Smiles Dental Care is offering a teeth whitening special for all carnival goers, 20% discount on take home kits for a discounted price of $16000.00. Call us for your appointment and be sure to mention lehwego to qualify for discount.
Offer ends Feb 6, 2015.
We Are located at 17 Holborn Rd. , Unit A, Kingston 10. Phone : 876 926-9805 / 571 9233
Email: [email protected]/ Instagram @ allsmilesdentalja . Facebook. allsmilesdentaljamaica
Make sure you prepare for the big day properly…..the little things count!