Frenchmen Foreplay 2013 review
For years Frenchman has been one of the best, if not THE best party in the Jamaican party calendar. This year we expected nothing less with ticket prices going up to 80US dollars and last year been the most crowded Frenchman ever.
The Good.
After jumping through proverbial hoops to get tickets and arranging our weekend getaways we made our way to the new venue just outside the town of Ocho Rios. There was ample parking and regular shuttle buses from the parking to the venue. This year's venue, Groovy Beach, is the best venue that Frenchman has ever had.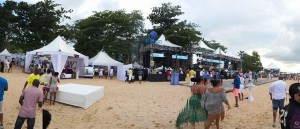 Bigger and scenic with more rest areas and amenities, including a spa with masseuse services. The dance floor was huge with excellent party lights and top notch sound system. The food tents were to the back of the venue with lots of seating and tables available for patrons to comfortably eat.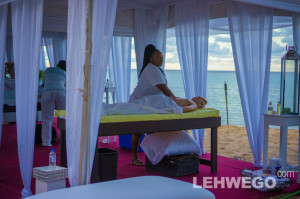 As usual The early bounce during the day was more of a meet and greet. You saw all your friends this party as it's a must do for most party connoisseurs here. As the sun set the vibes picked up, with DJ Private Ryan and Renaissance on the turntables. The vibes were bound to be good with several good soca sets played. Of course, lots of other genres were played and the crowd soaked it all in.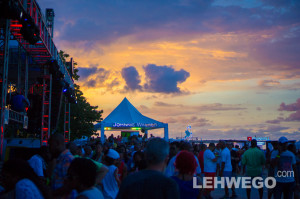 By 8pm the crowd was jumping and the vibes were nice all around!
The Bad.
Of course there is always the downside. Frenchman had some distinct problems this year. First of all was the increase in price to eight thousand Jamaican dollars.  In exchange for this price increase we seemed to get less however.  The food, though ample, was not top notch.  As far as I saw there was no lobster, shrimp or other delectable goodies.  By the time I went for food later in the evening, all I saw was jerk chicken and burgers!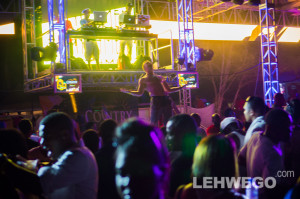 My BIGGEST peeve however wasn't the food.  It was the lack of fireworks.   Frenchmen for years has set itself apart by throwing a spectacular fireworks display near the end of the party.  Drunk fireworks rock.  This year for more money we got NADA!…. they tried to substitute by giving out balloons that we released simultaneously.  5 seconds later they balloons were out of sight….what a letdown!
Although this party will for now rule the roost in Jamaica I can confidently say that they need to step up their game to stay at top.  In a few years there are several other promoters that may well knock them off their pedestal.
Take a look at these albums for more photos!
https://www.facebook.com/media/set/?set=a.565080550214568.1073741850.170303803025580&type=1
https://www.facebook.com/media/set/?set=a.696025923741097.1073741842.283272315016462&type=1
What did you think of Frenchmen 2013?