Fetes for Ocho Rios Easter weekend 2015
Although I have been promoting portland as a great way to end the easter weekend I have to remind you of the ONLY way to start it.
You must organise for the madness that is easter in Ocho Rios.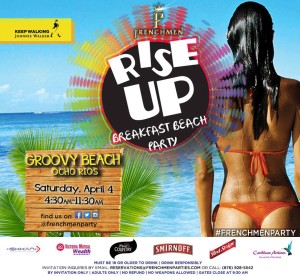 First up is "Rise up" by Frenchmen. This is their new breakfast fete held at Groovy beach just outside of ocho rios. It brings the usual high standard of frenchmen to the world of Jamaican breakfast fetes with good food,  great vibes and  beautiful people.  This is one where I will be leaving my camera at home and enjoying myself fully. Check liveStush for pictures after the event.
Next up is the ever fun Beach jouvert.
This party has been around from as long as I have been playing mas. It's is ALWAYS fun.
Set on a lush beachside property it brings the best parts of a bikini beach party,  jouvert and great stage show together.
There are paint free areas and a well appointed VIP area as well.
This is my favourite Bacchanal Jamaica event and has been from the first time I went.
New on the scene in Ocho Rios is Trini Jungle Juice's boat cruise,  Fun rum sun. . I went on their heroes weekend cruise and it was a blast and I expect nothing less from this event. They sail out to a secluded and scenic Bay with drinks and wine all the way. Check out their info here.
Remember if you want tickets you can get them HERE