Easter Weekend 2015 for Carnival in Jamaica. Marbana and Canboulay
Easter weekend 2015 will again carry us to Portland, Jamaica. This parish is relatively untouched by the hustle and bustle of the more industrialised parts of Jamaica and still epitomises the lush tropical beauty Jamaica is known for the world over.  Once again this year we have 2 soca parties that look to take you to paradise.
Marbana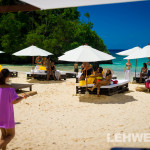 This party is by M7Events and last year really really impressed me. Held on one of the most famous and beautiful beaches on earth the scenery is amazing.  And M7events pulled out all the stops to make sure the party matched the decor.
On top of that the amenities and services were top notch.
Top shelf liquor,  the best foods cooked on site by the best chefs
Last year was a mix of genres, but the promoters saw the vibe Nuphoric and the sweet soca music  brought to the crowd and have, in their wisdom,  decided to go all out for carnival 2015. Nuphoric and others will be back in full effect and the fete will be BERE SOCA!
So imagine a soca fete in paradise with all the pleasures of the world at your beck and call….. This is Marbana.
Tickets are now available from the brand ambassadors or from the Marbana Concierge at 1-876-321-6398
Also look out for discounted hotel fees when you use the code play marbana at select hotels.
Canboulay Breakfast Party
This breakfast fete had its debut last year as well and also impressed.  This party was definitely a soca fete which was uniquely Jamaican.  From the large Jamaican menu for breakfast (which was a bellyful)  to ice cold coconut water in the shell there was no doubt you were in Jamrock.
The vibes were however all soca.  Dei Musicale and Nuphoric headlined last year and a similarly high powered list of Dj's is expected again.
Last year the vibes centred around the pool and so it makes sense that this year the event takes on a more water based theme.
It will be held at the scenic errol flynn marina beach.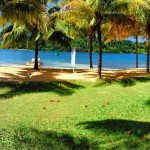 Expect the cool morning breeze blowing through your hair,  sun shining between the palm leaves as you party under your cabana…..
Regular ticket prices for this food and drink inclusive party is 5000j$. (50usd)
I have heard thru the grapevine about discounted tickets via at least 2 methods to be announced soon.