Easter Friday fete – Morning Mas Jamaica
Morning Mas on Friday March 25th is the first in the Mas series, which are cooler fetes with a twist. Later in the year will be Evening Mas and Midnight Mas.
The concept behind Morning Mas is a combination of a breakfast & cooler fete.
In terms of music Morning Mas features one of soca lovers' favorite Dj's Richie R.A.S., for the authentic Trini flavor Dei Musicale from Trinidad and to spice things up a bit Chromatic will be spinning a special dancehall wining segment.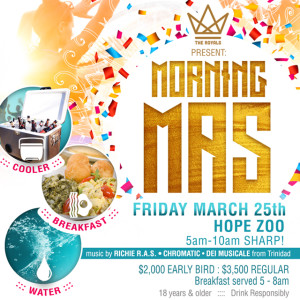 It runs from 5 am to 10 am sharp as we're encouraging patrons to catch the sunrise!
Morning Mas will be held on the lush lawns of Hope Zoo & feature misting spots for the patrons to cool off if so desired.
Tickets are $3500 presold and include breakfast which is served 5 – 8 am. Tickets are available through Zimi Tickets (Texaco Jacks Hill & Jamzone Manor Park) The Dream Entertainment Office (Winchester Business Centre Suite 30) and our ambassadors.