Dusk 2013: End the Easter weekend right!
The Jamaica carnival season just keeps getting better and better. In the last 2 years we have seen a transformation with fantastic new fetes popping up here and there.
I recently was informed of what I think will be another good fete for the easter weekend.
Powered by Dj Richie Ras fresh from Trinidad and Trinidads own Dei musicale it will be hard for this one to go wrong. Lehwego will be there…and so should you!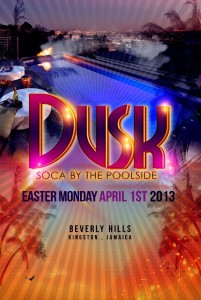 Date: April 1st, 2013 (Easter Monday)
Location: Beverly Hills
Parking: 4H Club, 95 Old Hope Road, Kingston 6
Shuttle service provided to venue
Time: 5pm – 10pm
Theme: Poolside Bottle Party
Music: SOCA
DJs: Richie R.A.S. & Dei Musicale from Trinidad
Admission: $1,500 + 750ml Bottle (Appleton Special, V/X, Smirnoff, Wray & Nephew White Rum)
[amazon asin=B008Q4HTC4,B007E9VCE8,B005JRMR5K,B003XKBRP6&text=www.amazon.com&template=carousel&chan=default]
It is Pre-sold only
Dusk Ambassadors for tickets:
Che Bowen – 1876 844 5492
Kevin Henry – 1876 892 7462
Leanne Spence – 1876 422 3858
Michael Gordon – 1876 470 8802
Richard Spence – 1876 379 8520