Carnival make up by Face Forward!
Last year I saw a friend of mine in Jamaica's carnival roadmarch wearing a full set of gems and carnival makeup.  I was impressed.  I asked her where she had gotten it done as I didn't even realize carnival make-up services were readily available here  in Jamaica.  She told me she had it done at a boutique called Face Forward.  It just happens to be located right under the venue of my favorite soca fete series this year, Island Mas Soca Village, at The Orchid Village, Liguanea.
Many of you may say, "what does this have to do with carnival from a man's point of view?".  Well, all of us guys love to see you girls dolled up to the hilt come roadmarch time.  So in a selfish, roundabout kind of way it involves us guys after all.
I spoke to the owner, who answered a few questions for me.  See samples of their work at the end of this post.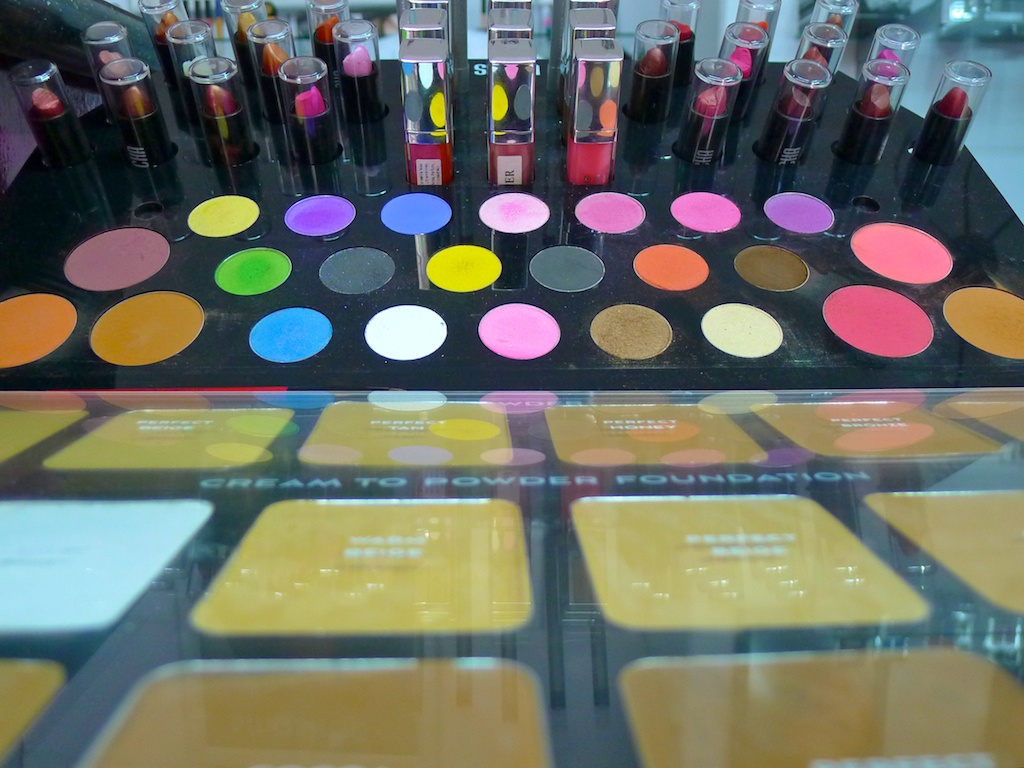 How long has face forward been around? Face Forward as a store has been open since 2009 at The Orchid Village, however we have been in the business of make-up for a little over 10 years.
What services do you usually offer?  We sell cosmetics, fragrances, swimwear, handbags, clutches and jewellery. We also do eyebrow shaping, eyelash extensions, make-up application, nail services and Dermalogica facials, plus we teach personal and professional make-up application.
And what are some of the cosmetic brands that you carry? We recently added the Dermalogica skincare line, which is absolutely amazing, to our offerings. We also carry Iman, Smashbox, Sacha, Mac, Makeup Designory (MUD), and some Maybelline, L'oreal and Girlactik products as well.
What services do you offer specifically for carnival? We do make-up application for carnival and we also sell the items necessary for persons to do the make-up application themselves. We also offer discounted rates for persons participating in the road march.
What inspired you to provide these services? We like the creativity that goes into carnival make-up, the vivid colours around and the energy in the air at carnival season, so we wanted to tap into that and offer these services to our customers.
Have you introduced any specials for the carnival season to make this service different from your competitors? We have kept our rates the same as last year to ensure that our clients will be able to afford our services, and will be offering even more options for persons who wish to save money by doing it themselves. We also will be using a kaleidoscope of exciting new colours just for carnival by Trinidadian brand Sacha cosmetics, as well as OCC vegan lip tars and authentic Indian gems, among other things.
How much is the carnival make-up service?  We offer carnival make-up application for $3500 – $6000 (dependent on how elaborate the design is) upon request, and we also sell earrings, lashes, and gems ranging from $500 – $1500.
So tell us, what exactly is Face Forward like on a carnival Sunday morning? Well this is our second year doing carnival make-up, and last year was very hectic, but a wonderful experience. Our team started applications by 6:00 am, and were on our feet for pretty much the whole day getting the revellers ready to 'chip down de road'. The store was busy, and full of people, but it was all very exciting. We can't wait to see what this year will bring.
Do you have any skincare advice to share with our readers for the carnival road march day? Ensure that you use sunblock under your make-up, preferably with SPF30, to protect your skin from sun damage.
And finally, how many spaces are available and how do people book your services? Spaces are still available! We can be contacted by phone or e-mail to book our make-up services, after which we will schedule a consultation before the road march to decide on a look for the big day.
Face Forward
Shop 19A, The Orchid Village
20 Barbican Road, Liguanea
Kingston 6.
Tel: 970-0470/816-1875
E-mail: [email protected]
Facebook: Face Forward Cosmetics & Swimwear
Twitter: @FaceFwdJamaica
Thanks to LiveStush.com for the photos of Face Forwards work!