Carnival in Jamaica is postponed till OCTOBER 25th, 2020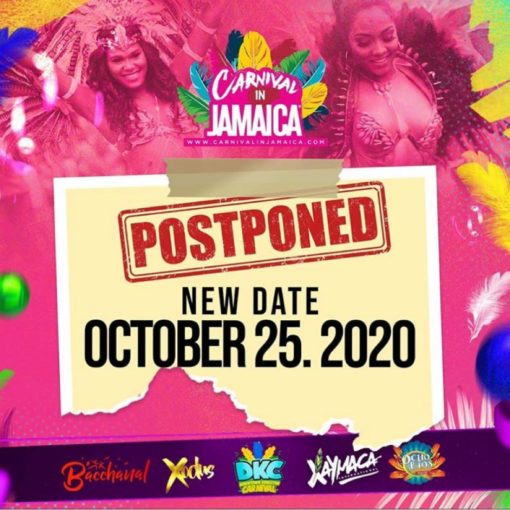 The Government of Jamaica and the stakeholders of Carnival In Jamaica have made an important decision. Based on epidemiological modelling it will be a few months before the worst is over and so OCTOBER 25 is the new proposed date for Carnival in Jamaica. This decision was taken with the entire industry and all stakeholders in mind. Not only are the 3 mas bands changing dates but also, importantly, almost ALL of the locally based/owned Carnival events. As such, the new date will be not just for the road but for a robust and complete carnival experience in the week before carnival.
As stated by all bands and agreed to on payment of deposit, refunds are not available. This is simply due to the financial logistics of getting these custom made items ready for you in time. For persons who can't make the new dates, the best and easiest thing to do is sell your costume to new revellers who have now decided it's time to come to Carnival in Jamaica.
Fetes will have more varied in the paths they are taking and you can look to each Fetes social media accounts to see their policies
After what is looking to be a long and arduous fight against corona during which there will be NO carnivals, NO fetes, No liming, NO sports on TV I am already looking forward to October when I can again step out of my toilet paper fortress and have my time in the sun. On the plus side we all now have time to make the ULTIMATE carnival bodies!
ARE YOU COMING TO CARNIVAL IN OCTOBER??
See the full statement below.
In light of the COVID-19 pandemic, and internal consultations with the Ministries of Health & Wellness, Culture, Gender, Entertainment & Sports and Tourism and our fellow carnival stakeholders we respect the decision by the government to postpone the staging of our Carnival in Jamaica 2020 Road Marches to October 2020.The decision by the government to postpone an event that is five weeks away is an imperative one and came after much consultation and deliberation. This postponement to October 2020 gives us seven (7) clear months from the initial detection of the virus in Jamaica to provide a level of chronological distancing that shows that we are committed to protecting the citizens of Jamaica and tourists from unnecessary exposure to the pandemic COVID-19. With that being said, we value all of our employees that make an honest living from the Carnival industry here in Jamaica: our staff, event management agencies, production & logistics companies, costume designers, hoteliers, transport providers, decorators, security personnel, caterers, bar services, DJs, food growers and beverage companies. A decision to cancel Carnival for 2020 would see us forego all the potential economic injections across all sectors that our Carnival brings to our country annually, especially in a year when we will need it most, i.e. in anticipation of the economic fallout as a result of the COVID-19 pandemic. Our Carnival season has an annual economic impact in the billions. By postponing the season and not cancelling, we can still fulfil our commitment to our revellers to provide the best Carnival experience in the Caribbean and keep our industry from crumbling under the weight of the significant economic pressures we will face as a nation – a most delicate balancing act.

The Stakeholders have committed to the following: Carnival in Jamaica's Road Parade (Bacchanal Jamaica, Xaymaca International, and Xodus Carnival) will be on Sunday, October 25, 2020.
Ocho Rios Carnival Road Parade will be on Sunday, October 18, 2020
Downtown Kingston Carnival Parade date will be on Sunday, October 18, 2020
We can already confirm that the following fetes will occur between October 19th and 26th:
DUSK
MOONSHINE
I LOVE SOCA
AFLOAT
XODUS TAILGATE
SUNKISSED
BACCHANAL JOUVERT
XODUS JOUVERT
SUNRISE BREAKFAST PARTY
XODUS FETE GALA
PM FETE
XAYMACA BEACH FETE
RFB

We are committing to our revellers that the costumes and t-shirts purchased for the April stagings will be valid for our October 2020 staging and we will announce new distribution dates in short order. The Ministry of Tourism has had robust discussions with the hotels and airline partners and we expect they will waive change fees for rebooking to October, so the revellers will not incur any additional costs and still get to enjoy Carnival in Jamaica at a time when it should be safe to do so.An official revised Carnival in Jamaica Calendar including all the major fetes will follow in the coming days. We thank you for all of the support for Carnival in Jamaica over the years and look forward to an amazing experience with you in October 2020!
Bacchanal Jamaica
Xaymaca International
Xodus Carnival
Ocho Rios Carnival
Downtown Kingston Carnival